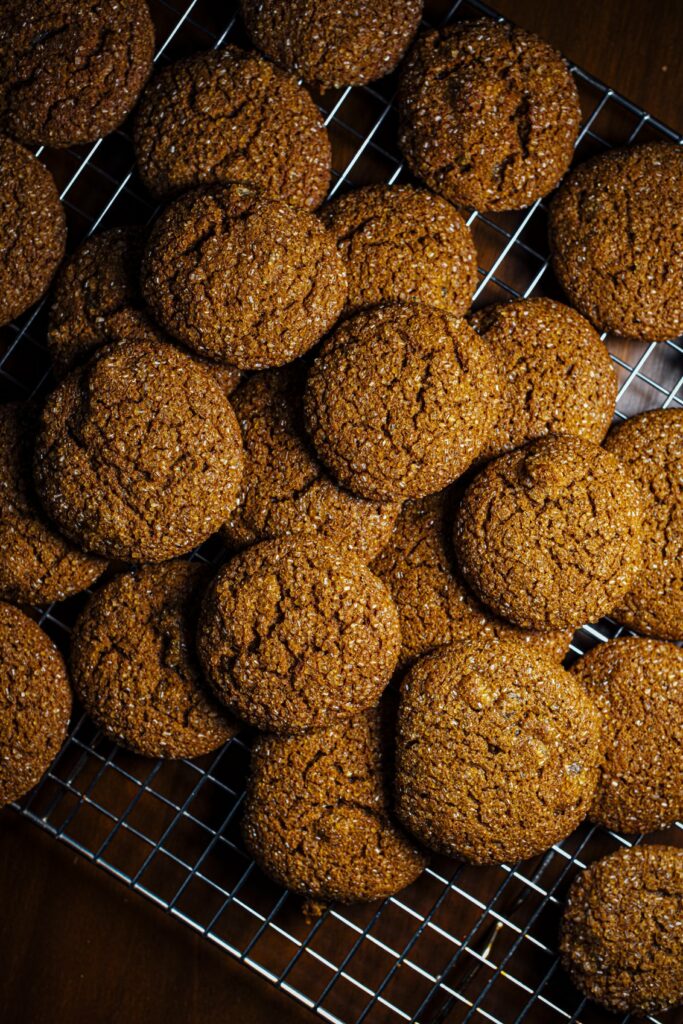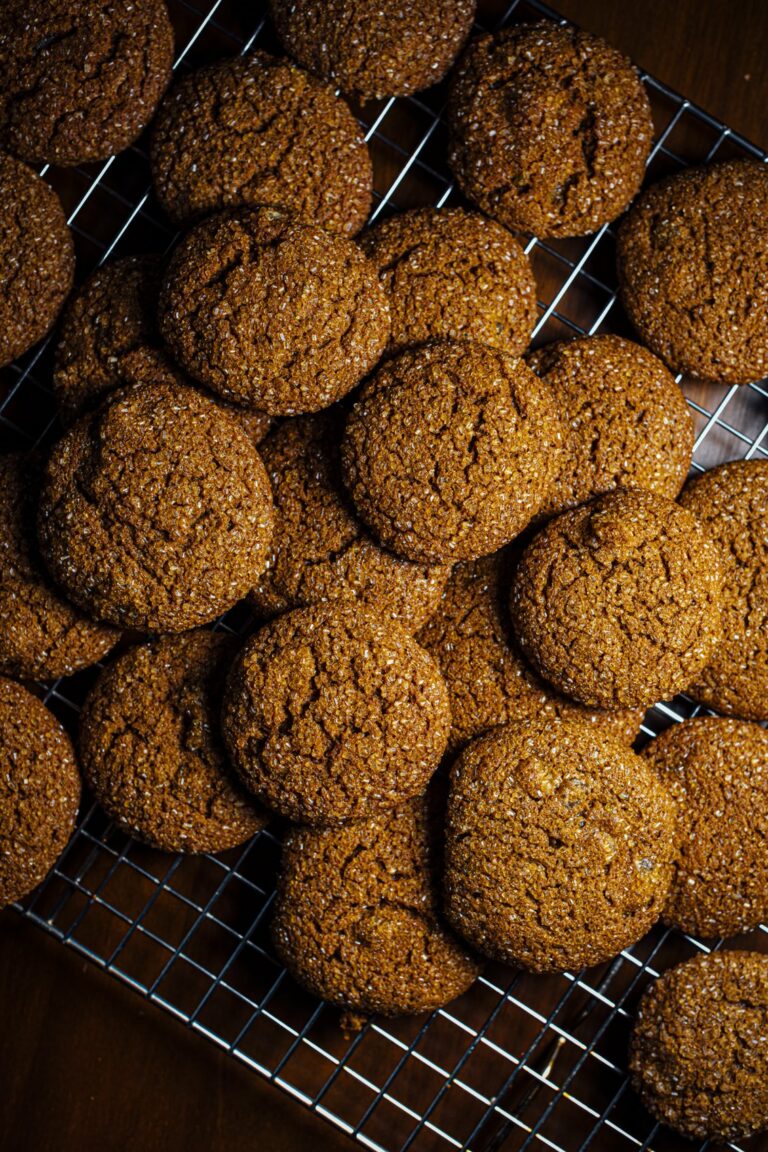 If there is a cookie that I love a lot more than the other holiday cookies, it's got to be gingersnaps. Gingersnaps, ginger snaps, gingernuts, ginger nuts, or ginger biscuits (no relation to the Ginger Snaps horror movie franchise) are one of those cookies I find to be the perfect companion to a cup of hot tea or coffee.
The Hallmark of a Gingersnap Cookie is the Pleasant Wave of Heat:
I've strayed from the classic gingersnap recipes that use the ground form of dried ginger and amped up the ginger flavor by incorporating three different forms of ginger; ground dried ginger, grated fresh ginger, and crystallized ginger. I've also added one extra ingredient to build on the heat from the ginger, and that's ground black pepper. The overall effect is a robust ginger flavor with a beautiful contrast of heat and sweetness.
Why Use Different Types of Ginger?
Ginger is a fascinating ingredient; as it's processed and converted into various forms, the critical chemical gingerol responsible for its gingery heat transforms into new substances. When fresh ginger is dried to produce the ground ginger in our spice jars, the gingerol changes into shagaol. In contrast, in crystallized ginger (prepared through pressure cooking), gingerol turns into zingerone. Each of these ginger flavor molecules differs from each other in their degree of heat, and zingerone, in comparison to the other two, is also sweeter (from a food chemistry perspective to see how one molecule can change slightly and produce such a dramatic effect, see my illustration (this was one of the sketches that didn't make it into The Flavor Equation cookbook))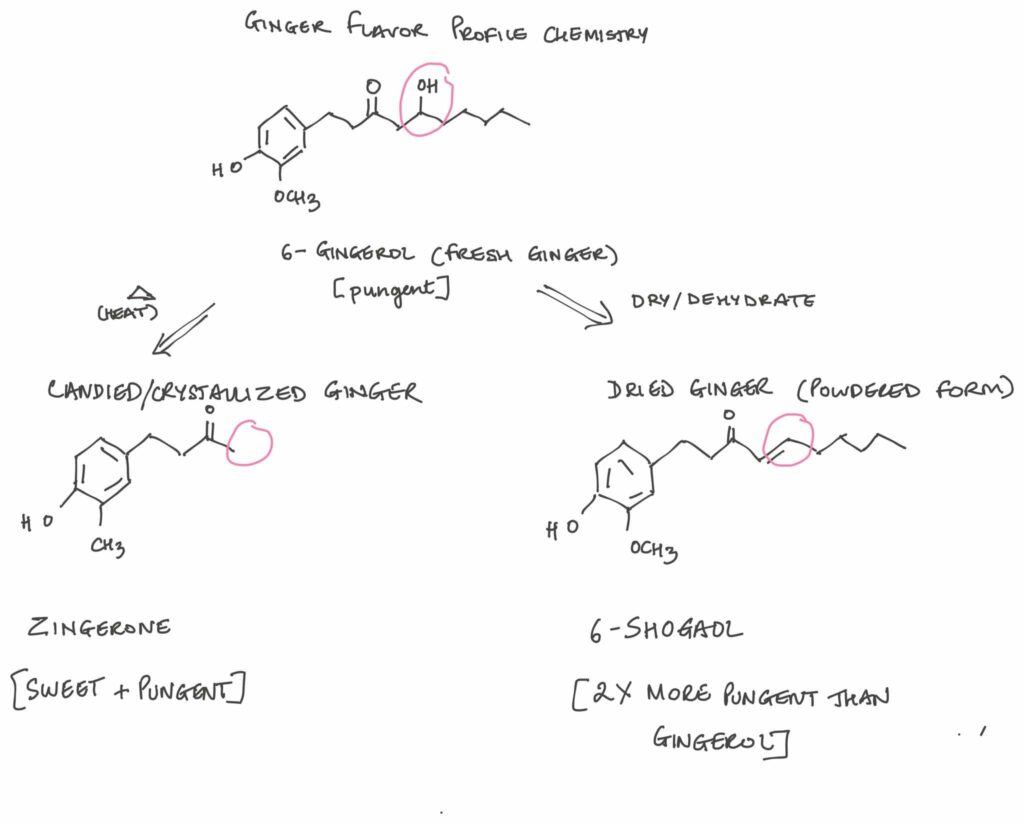 Why Black Pepper?
I often add black pepper to a lot of my sweets, especially cookies and ice cream. The heat and aroma from the black pepper often hold up really nicely to sweetness. Black pepper gets its heat and pungency from a chemical called piperine. One interesting thing of note, piperine is light sensitive and changes into non-pungent substances (by a process called isomerization), so always store peppercorns and ground away from light in a cool, dark corner of your kitchen. In addition, piperine loses its pungent potency over time because of spontaneous chemical changes; that's a big reason why most recipes will ask you to use freshly ground black pepper and avoid holding on to peppercorns in the spice cabinet for several months. In these cookies, the addition of black pepper helps tie the heat from the different forms of ginger together.
How Does the "Heat" Work?
The flavor chemicals in ginger and pepper work on our senses by a phenomenon called chemesthesis. Chemesthesis is simply the irritation of our nerve endings inside the mouth that occurs when they're exposed to the flavor substances in ginger and pepper during eating; our bodies have evolved to appreciate this "irritation" as a pleasurable and tasty sensation. The heat from chilies and the tingling sensation produced by lime zest on our tongues all work by the same process, but they use different food chemicals.
Because of these various flavor boosters, I like to add the three different forms of ginger and black pepper to create a more robust and flavorful gingersnap cookie. Now let's get to baking.
Extra Spicy Gingersnaps
These gingersnap cookies get their spicy punch from three different gingers and black pepper forms, while the demerara sugar provides a sweet, crunchy texture to the cookie. Gingersnaps are best eaten with a cup of warm coffee or tea.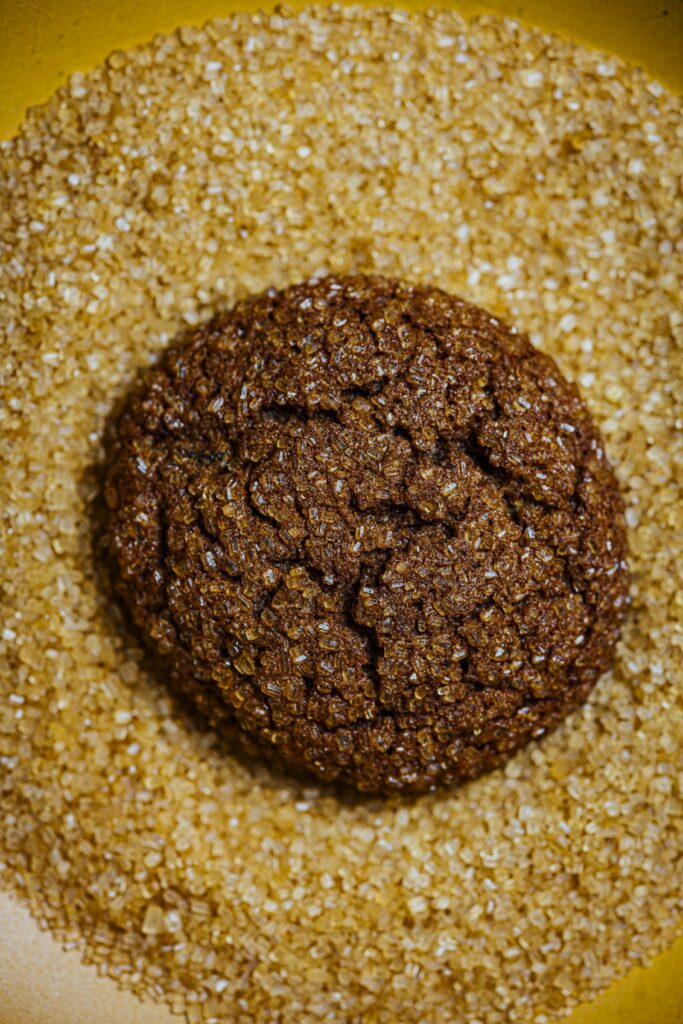 Print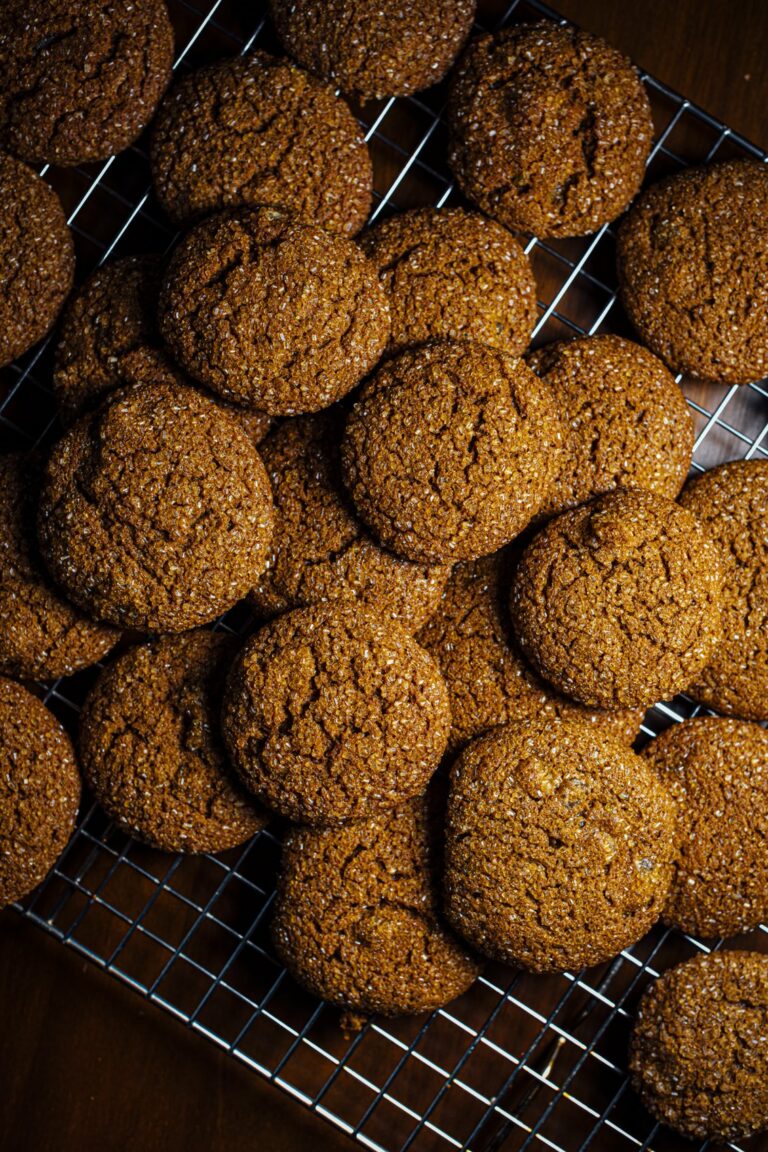 Perfect Gingersnap Cookies
If you love the heat of ginger in sweets, then these gingersnaps will delight your palette. These gingersnap cookies get their spicy punch from three different gingers and black pepper forms, while the demerara sugar provides a sweet, crunchy texture to the cookie. Gingersnaps are best eaten with a cup of warm coffee or tea.
2 ½ cups/350 g all-purpose flour
1 Tbsp ground ginger
1 ½ tsp baking soda
1 tsp ground black pepper
½ tsp ground green cardamom
½ tsp ground cinnamon
½ tsp ground nutmeg
1 cup/220 g unsalted butter, cubed at room temperature
¾ cup/150 g packed dark brown sugar
1 large egg, at room temperature
½ cup/120 ml date syrup or unsulfured molasses
1 Tbsp grated peeled fresh ginger
½ cup/120 g chopped crystallized ginger
1 cup/200 g demerara or sparkling sugar
Instructions
Place the two-wire racks at mid-height in the oven and preheat the oven to 325F/165C. Line 2 baking sheets with parchment paper.
Dry whisk the flour, ginger, baking soda, black pepper, cardamom, cinnamon, and nutmeg in a large mixing bowl.
Add the butter and sugar to the bowl of a stand mixer fixed with the paddle attachment. Beat over medium speed until the butter is creamed and turns a pale light brown, 3 to 4 minutes. Scrape the sides of the bowl down with a silicone spatula.
Whisk the egg, date syrup, and ginger with a fork in a small mixing bowl and pour the mixture into the creamed butter. Mix over medium speed until combined and the mixture turns fluffy, 1 ½ to 2 minutes. Scrape the sides of the bowl down and add the flour mixture. Mix over low speed until combined and there are no visible flecks of dry flour, 1 ½ to 2 minutes. Scrape the sides of the bowl down and add the crystallized ginger, process over low speed for 30 seconds to 1 minute until the ginger is evenly distributed. Remove the bowl from the mixer.
Place the demerara sugar in a medium mixing bowl. Take out 1 Tbsp of cookie dough using a cookie scoop, shape into a round ball, and toss the ball in the demerara sugar until coated well. If the dough starts to turn too sticky, grease your hands lightly with a little unsalted butter. The cookie scoop will get sticky after a few rounds of scooping. To avoid this, set a small jug filled with hot water and dip the cookie scoop into it to rinse off the stuck dough and shake off the excess water before using. Place the sugared ball of cookie dough on the lined baking sheet. Prepare the rest of the cookie dough in the same manner, spacing them out by about 1 inch/2.5cm on the baking sheet. There should be 16 balls of cookie dough per sheet. Bake two sheets at a time, rotating the pans halfway through during baking until the cookies turn golden brown and crisp, the tops crinkle, 20 to 25 minutes. Remove from the oven and let cool on the baking sheet for 5 minutes before transferring them to a wire rack to cool completely. Store in an airtight container for up to 2 weeks.
Notes
Three forms of ginger and black pepper give these cookies their heat.
Either date syrup or unsulfured molasses can be used in this recipe, I prefer the taste of date syrup here because I find it complements the tastes of the spices better.
You do not need to make the cookies on the day off. You can refrigerate the dough for a few hours (maximum overnight) but remember to warm the dough to room temperature or it will be too stiff to shape.