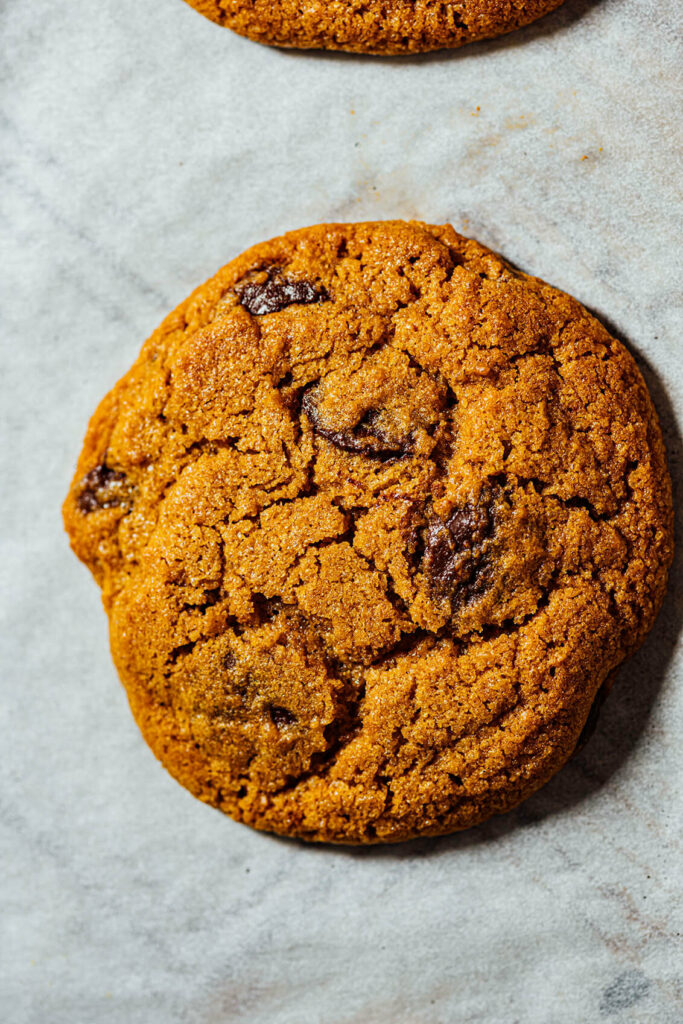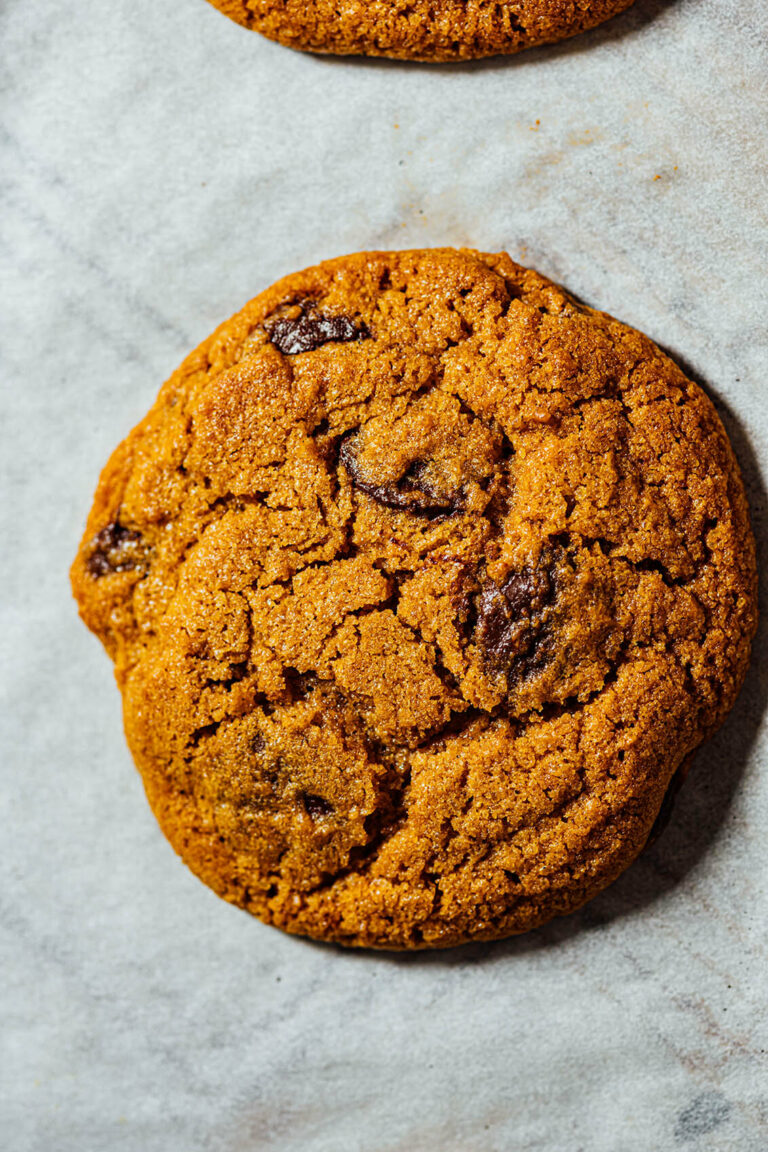 The success of this recipe depends on the use of good quality ingredients. Use the best chocolate you love to eat, good flour, butter, and vanilla. These are what amp the flavor up!
Print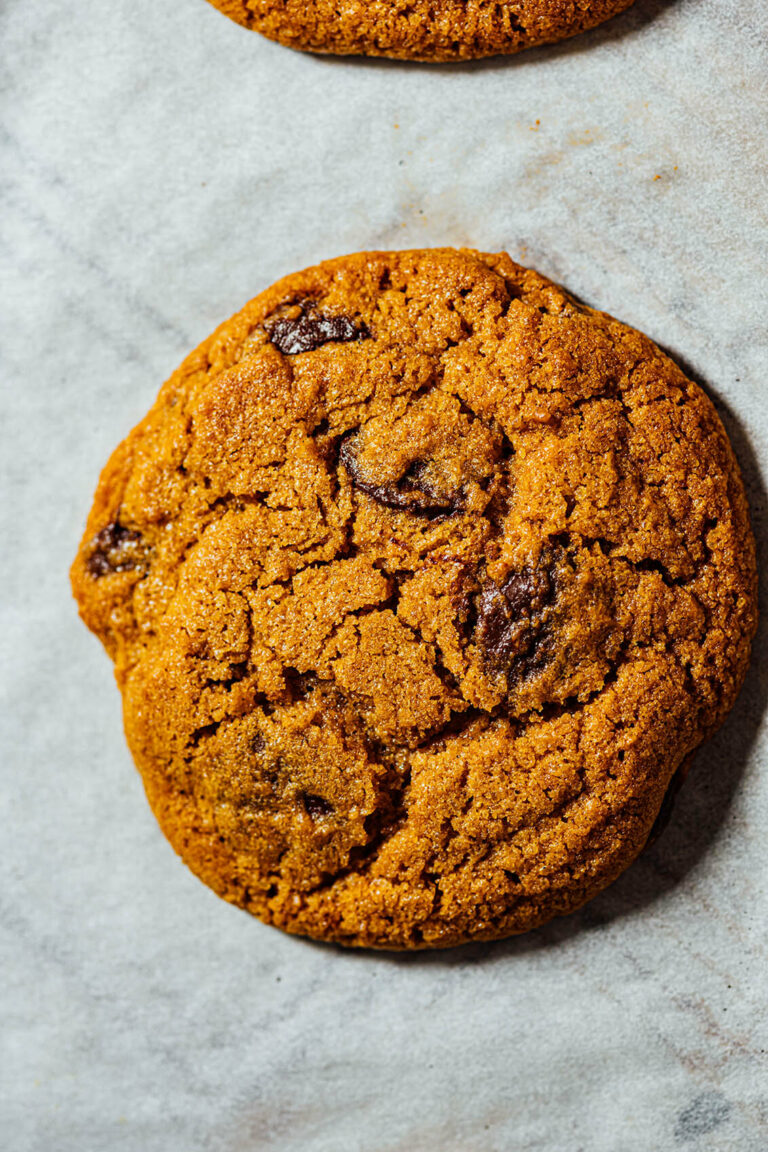 Chocolate Chip Cookies
Chocolate chip cookies are one of those recipes, just like meatballs or mac and cheese; they're highly personal, and we all have opinions on what characteristics make them unique. I like my cookies to be crispy on the exterior and chewy in the center. The chocolate must be a little bitter and not too sweet, as the rest of the cookie batter is sweet enough that the chocolate must stand out. I usually add two or more percentages of cacao-containing chocolate to add depth to the chocolate in the cookie. Here's my basic chocolate chip cookie recipe.
Yield:

18 cookies (each about 3.6 in/9 cm in diameter)
7 oz/200 g unsalted butter, chilled and cut into cubes
1 2/3 cups plus 1 Tbsp/340g dark brown sugar
1 tsp vanilla extract
1 large egg, chilled
2 Tbsp plain unsweetened kefir, buttermilk, or plain yogurt (do not use Greek yogurt)
¼ tsp instant coffee powder
2 cups plus 2 Tbsp/300 g all-purpose flour
¼ tsp baking powder
¼ tsp baking soda
1/8 tsp fine sea salt
5 ¼ oz/150 g 42% semisweet chocolate
5 ¼ oz/150 g 72% semisweet chocolate
Instructions
Preheat the oven to 350F/180C. Line 3 rimmed baking sheets with parchment paper.
Place the butter and sugar in the bowl of a stand mixer and beat on medium-high speed for about 5 minutes using the paddle attachment, until combined. Scrape the sides of the bowl down. Add the vanilla, egg, kefir, and coffee powder and beat over medium-high speed for 1 minute till combined. Stop the mixer and scrape the sides of the bowl down. Dry whisk the flour, baking powder, baking soda, and salt in a mixing bowl and add it to the bowl of the stand mixer. Mix over low speed for about 2 minutes until combined, and there are no visible flecks of dry flour. Scrape down the sides of the bowl. Add both chocolates and mix over medium speed for 30 seconds, just enough to distribute the chips evenly.
Using an ice cream scooper or a tablespoon, take about 2 generous Tbsp of the dough and scoop it out on the prepared baking sheets. Place 6 scoops of cookie dough per sheet, keeping each about 2 in/5 cm apart. Bake the cookies in the preheated oven for 20 minutes until they turn golden brown, turning them halfway through at the 10-minute mark. If you bake two sheets of cookies at a time, place two wire racks at the ½ and 1/3 rd positions, swap the sheets at 10 minutes and rotate them by 180 degrees. Remove the baking sheets from the oven and let the cookies cool on the tray for 5 minutes, then transfer to a wire rack to cool completely. These cookies can be eaten warm or at room temperature (if you decide to eat them straight out of the hot baking sheet, be careful, the chocolate will burn your mouth (I know from experience)).
Notes
In this recipe, the types of chocolate cacao percentages are recommendations, feel free to play around with them – I like variations on the kind of chocolate used (a milder one and a darker one). The chocolates I used here are from Guittard, and the 72% cacao is called Sante, made with coconut sugar.
I tried a bunch of different temperatures and time conditions; expect a slight variation in results based on your oven. The ideal sweet spot for the cookies was 20 minutes at 350F/180C.
If you think you won't be able to bake all the cookies in one sitting, I recommend portioning them all out on lined baking sheets, wrapping the sheet with plastic wrap, and then freezing them. This will help reduce some of the loss in the rising agents' activity at room temperature. You can bake the cookies directly from the freezer expect to add 2 to 3 minutes to the baking time (check them at the 10-minute mark).
Instant coffee is optional, but it helps enhance the aroma of the chocolate.
Fermented dairy (kefir, buttermilk, yogurt) gives a pleasant mild tanginess to the cookie but also helps with the cookie rising. Do not use Greek yogurt here.
I recommend you use the weights for this recipe (I've listed cup measurements wherever possible) – in some places, like the butter, 1 cup is about 220 g, so it becomes needlessly complex to say 1 cup minus "x" amount. Chocolate chips are better weighed than measured by cups – different types and brands of chocolates come in different sizes. If you chop a chocolate bar and use it here, you will have the same issue; a cup measure will not be beneficial.
I use a medium size ice cream scoop for my cookies; if you use a different sized one expect your cookies to be different.
If you don't own three baking sheets, wait for the baked cookies to cool, transfer them to the wire rack, and then cool the sheet (run cold tap water on the underside) and reuse it to make the next batch. Just don't add cookie dough to a warm sheet!
How long do cookies last? This is a controversial question; in my house two days, but if stored in an airtight container, you can keep them for 4 to 7 days if you have a container that can be sealed by vacuum at room temperature.
I baked my cookies on the baking sheet with a pizza stone left in while the oven preheated. You don't need to do this, but I noticed the cookies' base to be much nicer than the one baked without the stone.
Salt and Sweet lovers sprinkle a few salt flakes over the tops of the cookie dough on the baking sheet right before baking.