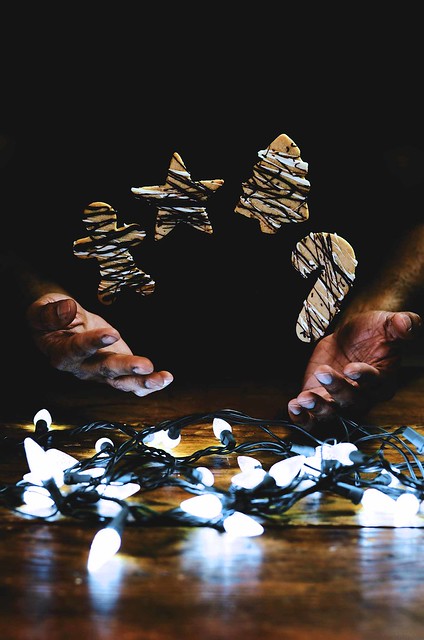 Christmas and cookies go hand-in-hand. I might skip making a few holiday desserts every year but never the cookies. The cookies will be made and be on the table every year. That is one holiday tradition I've grown up with, and I hold on to it very dearly. Considering how strongly I feel about Christmas cookies, I was super excited when the super-talented trio of Erica, Karen, and Todd behind Honestly Yum asked me to join them along with a bunch of other bloggers in their holiday cookie swap. 
Christmas cutout cookies are one of my favorite holiday cookies. It also gives me an excuse to get a few new cookie cutters each year that can be added to my little collection. Seriously, one can never have too many cookie cutters!
These cookies are whole grain based and made from buckwheat and oat flours, which are also gluten-free, so if you're sensitive to gluten, you might want to try this recipe out. You can frost these cookies, but I've done a double white and dark chocolate drizzle that goes well with the taste of these two flours in the cookie. Plus, drizzling chocolate makes one happy and sweet, messy situation.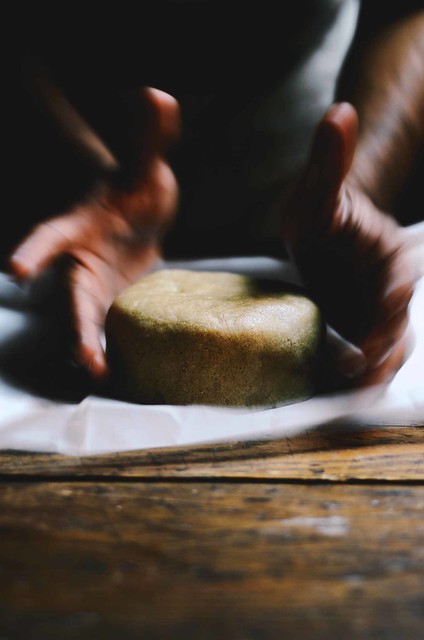 Check out the holiday round-up of these delicious cookies by these awesome bloggers participating in this virtual cookie swap hosted by Honestly Yum! I want to taste and eat each and every one of them!
Print
buckwheat and oat flour christmas cutout cookies
The whole-grain cookies are gluten-free and an excellent addition to your holiday cookie collection. The texture of these cookies is similar to shortbread with a sandy texture. I will caution you that the dough will stick to work with, so follow my instructions to roll them out between sheets of parchment paper and freeze them to peel the cutout cookies easily. If you can't be bothered with making cutcutoutst still want to make the cookies, take 1 Tbsp of cookie dough and shape them by hand into small 1 in/2.5 cm circular patties and bake them for 20 to 25 minutes. 
Yield:

about 3 dozen/varies by cookie cutter size
For the Cookies
5 oz/140 g buckwheat flour + a little extra for dusting
5 oz/140 g oat flour
4 oz/115 g fine light brown sugar
1/4 tsp baking soda
4 oz/115 g unsalted butter, cubed and softened at room temperature
1 large egg, lightly whisked
2 Tbsp plain full-fat cream cheese
1 tsp vanilla extract
For the Chocolate Drizzle 
1/2 cup/90 g white chocolate chips
1/2 cup/90 g dark chocolate chips (I used Guittard 75% dark cacao)
Instructions
Attach the dough blade to the bowl of a food processor. Place the buckwheat and oat flours, brown sugar, and baking soda in the bowl of a food processor and pulse for a few seconds until combined. Add the butter, egg, cream cheese, and vanilla and pulse until the mixture comes together and turns into a soft dough. The dough will be sticky to the touch.
Preheat the oven to 350F/180C. Line two baking sheets with parchment paper.
Divide the dough into 4 equal parts by weight and shape each into a 5 in/12 m disc. Cover them with cling film. Place two sheets of parchment paper on the kitchen counter. Work with one disc of dough at a time. Lightly dust the surface of one sheet of parchment paper with flour. Place the disc of dough on the sheet and top it with the second sheet of parchment paper. Roll the dough out into 1/8 in/4 mm thick sheet. Using a cookie cutter, cut the dough into shapes. The dough will be sticky and stick to the bottom parchment paper. To prevent the cookie shapes from ripping apart, stick the entire sheet in the freezer until they firm up and peel off easily. Transfer the cut cookies to the lined baking sheets and bake them until they turn golden brown on the edges, about 20 minutes, rotating the sheet halfway through during baking. Press the unused cookie dough together and prepare the cookies similarly. Let the baked cookies sit on the baking sheet for 5 minutes before transferring to a wire rack to cool completely.
When ready to coat the cookies with chocolate, leave them on the wire rack, a silicone mat, or a sheet of parchment paper.
Place 3/4 of the white chocolate chips into a small heat-proof mixing bowl. Place the bowl in a saucepan containing barely simmering water on a stove. Stir the chips until they melt at 110F/43C. Immediately switch the stove off and remove the bowl from the saucepan. Stir in the rest of the white chocolate chips and mix until combined. Drizzle the chocolate over the cookies using a fork and allow it to firm up before drizzling it with the dark chocolate.
Repeat the same steps to prepare the dark chocolate. Drizzle the dark chocolate over the cookies and leave to set at room temperature. Transfer and store the cookies in an airtight container for up to 1 week.
Notes
Chill the dough as often as you can, as soon as you feel it is too soft chill it down.
If the cutout cookies get too a bit difficult to manage and if the dough softens too much, chill it. This will harden the dough and allow you to peel the cutout cookies easily.
I've tempered the chocolate to keep it solid at room temperature. But I recommend storing the cookies in a cool and air-tight dry container. 
Use your imagination and drizzle the chocolate or dip the cookies into the chocolate to create fun patterns.