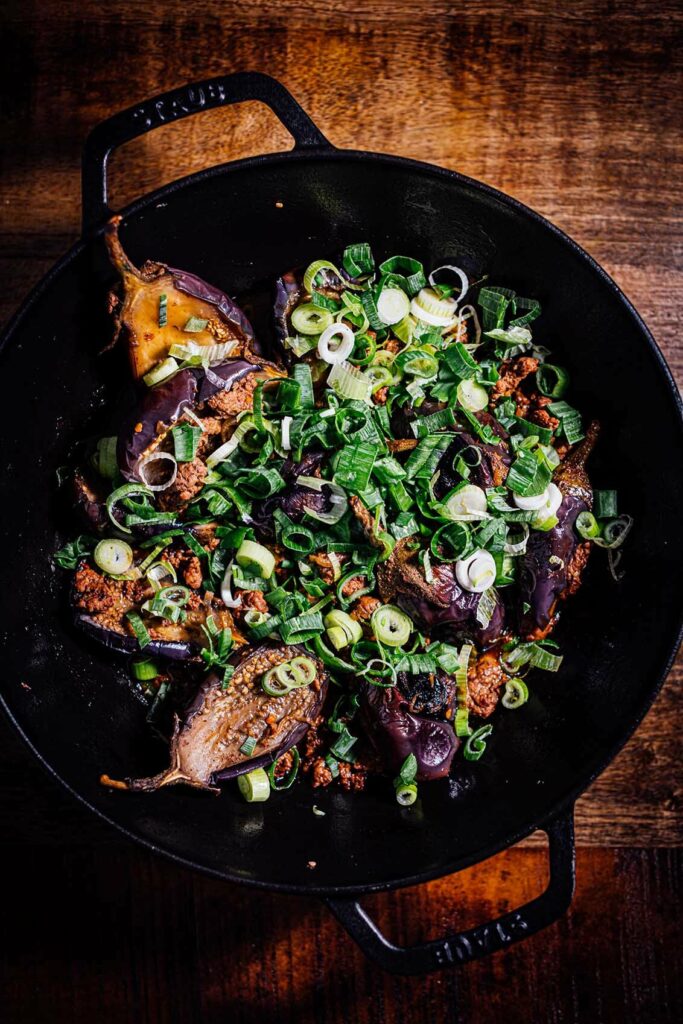 Disclaimer: This post was sponsored by the American Lamb Board. All opinions expressed are solely my own.
Of all the cuts and types of lamb available, I always keep a bit of ground American lamb in my freezer. There's so much that can be done with ground meat – shape them into burgers or kebabs, add them to a casserole or a stir-fry like I've done today. Savoriness and heat are built into this recipe through a few pantry staples.
Sambal oelek, a chilli, garlic, and ginger-based condiment that comes from Indonesia (can be obtained at your local grocery store), is one I encourage you to keep at all times in your pantry. It's a wonderful resource that you can use to build and layer flavor to the food you cook at home.
You might be wondering about adding salt to the eggplant before cooking. Adding salt to the eggplant helps reduce some of the internal liquid inside the vegetable through osmosis; it does not reduce bitterness. This is a common misconception. Most of the eggplants we eat have been bred to reduce their bitterness, and what little is left behind, is masked by the taste of salt and other spices added to the recipe. Salt does not draw the bitter molecules out of the eggplant. Here it helps improve the texture of the cooked eggplant.
This recipe leans towards the pungent side; if you prefer less heat, use less chilli and cut back on the sambal oelek. You can use lemon juice in this recipe, but I prefer the aroma of limes here; it makes it much more brilliant, but I also have a special fondness for limes.
Print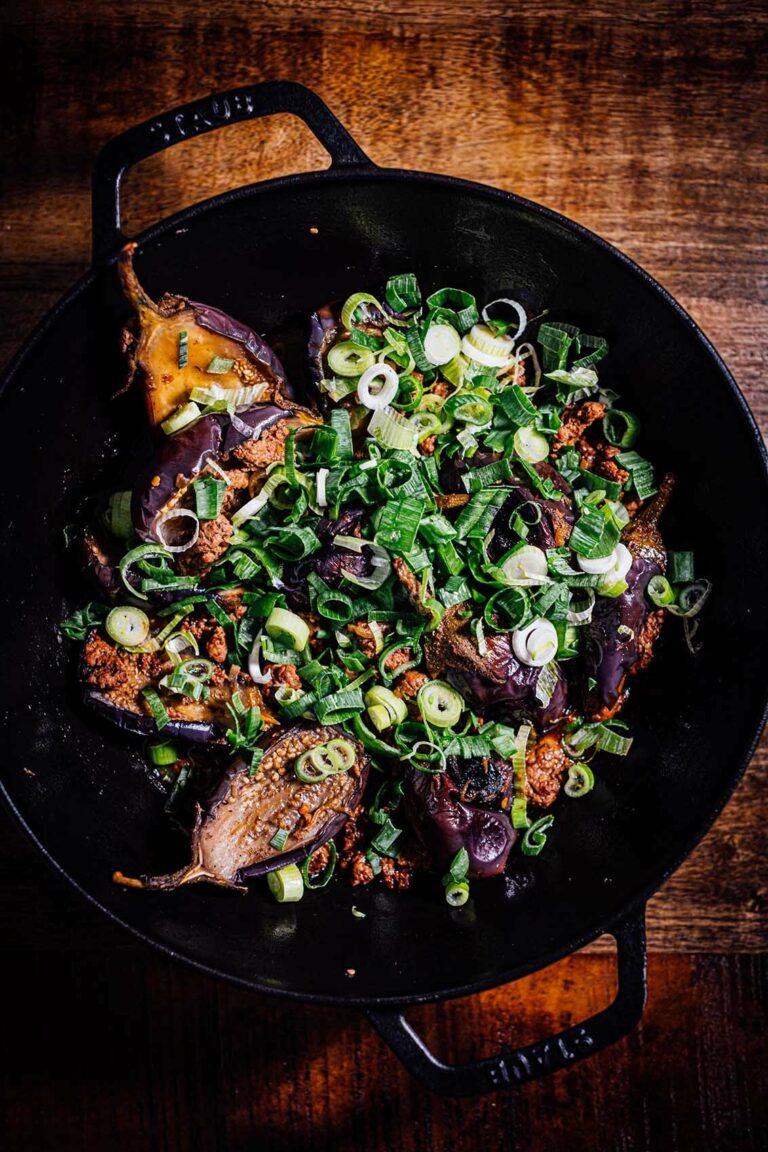 spicy eggplant with ground lamb
4 baby eggplants, cut in half
Fine sea salt
3 tablespoons fresh lime juice
2 shallots, peeled and thinly sliced into rings
2 Tbsp neutral oil such as grapeseed oil
1 lb/455 g ground American lamb
1 Tbsp low-sodium soy sauce
1 tsp fish sauce
1 tsp ground black pepper
3 Tbsp sambal oelek
2 to 3 scallions, both white and green parts thinly sliced
Instructions
Place the halved eggplants in a medium bowl, sprinkle 1 teaspoon of salt over the cut sides, add 1 Tbsp of lime juice and let sit for 10 minutes. While the eggplant sits, prepare the lamb.
Heat a wok or large saucepan with a lid over high heat. Add the oil, and once it is hot, add the shallots and sauteé for about 6 to 8 minutes, till they turn toffee brown. Rinse the eggplants under cold water, pat them dry with a clean kitchen towel, and add them to the shallots; stir-fry till their skin wilts and then the flesh is light brown, about 6 minutes. Transfer the shallots and eggplants to a plate. Return the wok to the stove.
Add the ground lamb to the wok and cook until it browns and releases its juices. Add the sambal oelek, soy, and fish sauce. Fold to combine well. Return the shallots and eggplant to the lamb. Add ½ cup [120 ml] water and cover the wok with a lid. Reduce heat to medium-low and cook till the eggplant is tender, about 20 minutes. Stir in the remaining lime juice. Taste and season with salt. Garnish with the scallions and serve immediately. This dish is best eaten warm.