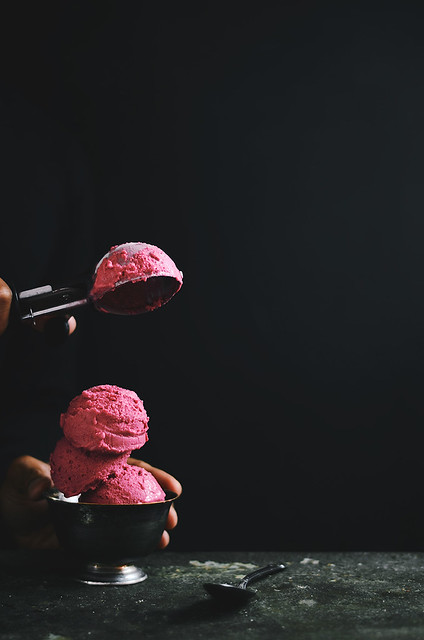 For someone that professes to love ice cream that much, I almost shuddered when I realized I haven't made a batch in a long, long, long time. Like any devoted home ice cream maker enthusiast, I always keep the canister frozen and at one point, even pondered at getting a second one as a "backup", so I know my love is pure. It was time to rectify this immediately! So to break this cycle, I'm sharing this sweet floral accented pink hued ice cream and even if you have second thoughts about beets in a dessert, I urge you to keep an open mind, this one might just surprise you (in a pleasant way hopefully)!
This was a hard one to name, too many ingredients that stood out and deserved a mention, so I apologize in advance if it sounds way too long. I started off by oven roasting my red beets before I puréed and stirred them into goat milk. The roasting helps to enhance the natural sweetness of the beets by cooking the sugars inside and give them a light caramel flavor. The ice cream base is sweetened with a little honey and brown sugar and then flavored with a light dash of rose water. The natural tanginess of the goat cheese helps to balance the flavors.
I did notice one really interesting feature about the red pigment known as Betalain in the beets, it started off as pink but turned red after the ice cream base was removed from the hot stove and then went back to pink as it cooled down. I know the pigment color is pH sensitive (acidic/alkaline environments) but this temperature effect was new to me.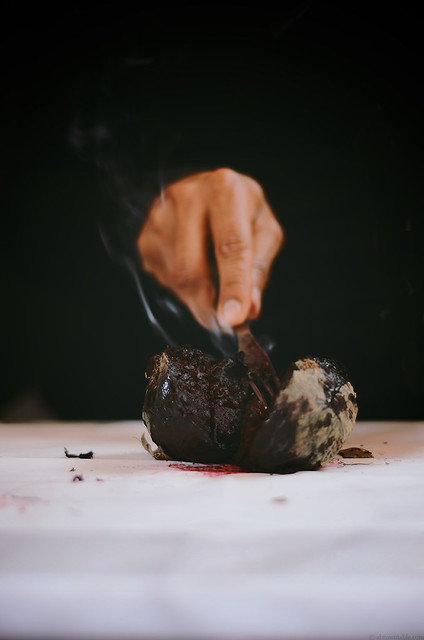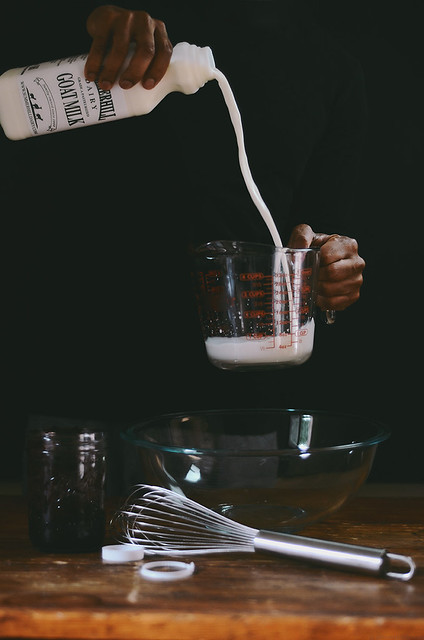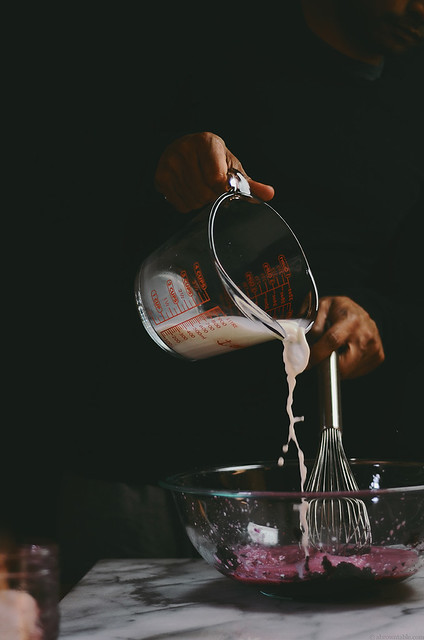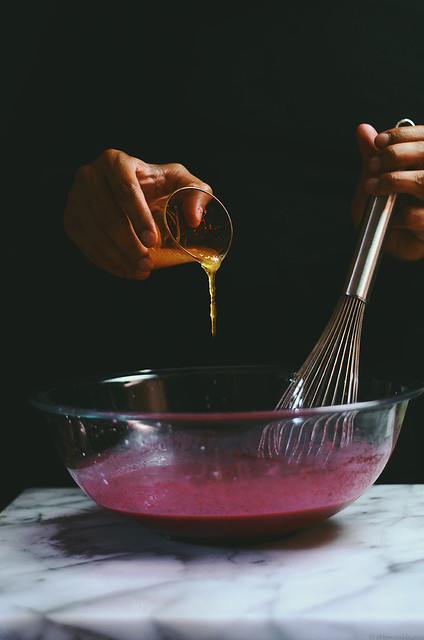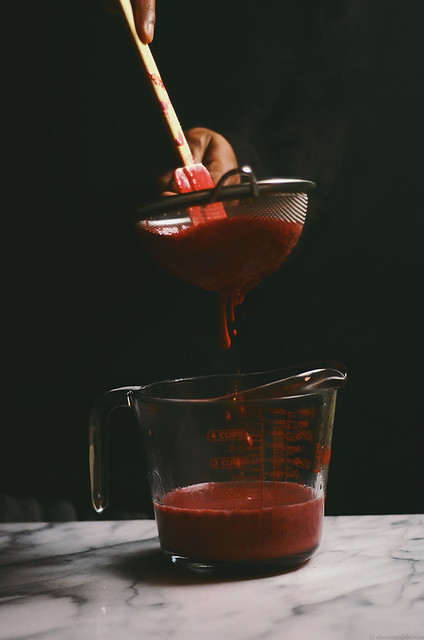 Here are some of my kitchen tips that you might find useful when preparing this ice cream,
Roast your red beets by wrapping them in aluminum foil and placing them for about 45-60 minutes in an oven at 400F. The beets will cook in their own steam and should be very soft when done. Peel and purée the beets using a food processor.
Some people may find rose water to be a little intense in flavor, so I recommend adding the smaller amount listed below. If you like it by all means bump it up but not too much or it will mask the taste of the beets.
My ice cream base recipe is loosely based on the basic technique used in Jeni's Splendid Ice Creams at Home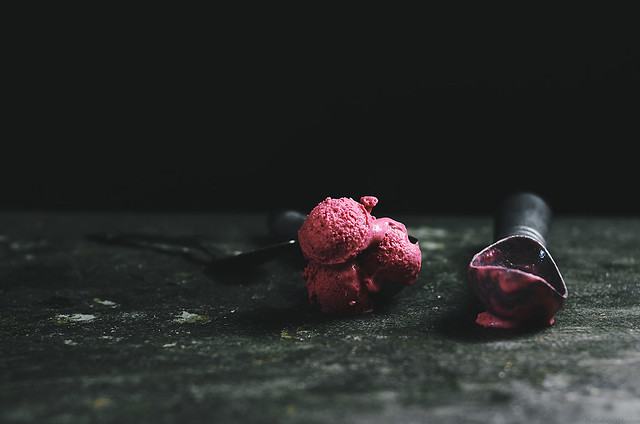 red beet, rose water, honey, goat cheese and goat milk ice cream
yields: approximately 1 generous quart
ingredients
1 1/2 cups red beets, roasted, peeled and pureed
2 cups goat milk, full fat
1 cup heavy cream
4 tablespoons honey (I used the clover variety)
1/2 cup (3 1/2 ounces) brown sugar
1 1/2 tablespoons cornstarch
2 tablespoons water
4 tablespoons goat cheese, softened to room temperature
1-2 tablespoons rose water (use 1 tablespoon for a milder flavor and 2 for a stronger one)
1. In a large bowl, add and whisk together the puréed red bets, goat milk and heavy cream. Stir in the honey and brown sugar. Transfer the contents to a medium thick bottomed saucepan and heat on medium-high flame with occasional stirring. Bring the contents of the pan to a rolling boil for one minute.
2. While the the saucepan is heating, quickly mix the cornstarch and the water in a small bowl to form a slurry. Pour the slurry into the boiling contents of the saucepan and whisk vigorously to combine. Boil the contents of the pan for 2 additional minutes until the entire ice cream base acquires a thick custard like consistency. Remove from stove and stir about half cup of the hot ice cream base into a large bowl containing the goat cheese, whisk until smooth. Add the rest of the ice cream base and whisk to combine evenly.
3. Pass the liquid through a sieve to filter out any beet flesh particles. Collect the ice cream base in a container, cover the surface of the liquid with cling film and allow to cool to room temperature.
4. Once the ice cream mixture has cooled to room temperature, stir in the rose water. Transfer the contents into a 1 gallon ziplock bag and seal airtight. Place the bag in an ice cold water bath and cool to around 40F or until ice cold.
5. Once the ice cream base has cooled, pour it into the prefrozen canister of your ice cream maker and churn as per the manufacturer's instructions. (I normally churn for 30 minutes until the ice cream resembles a soft-serve consistency). Transfer the ice cream base into a freezer-safe container and layer the surface with parchment paper. Press gently to remove any air bubbles and seal the container with the lid. Freeze for at least 4 hours until the ice cream is firm before serving.