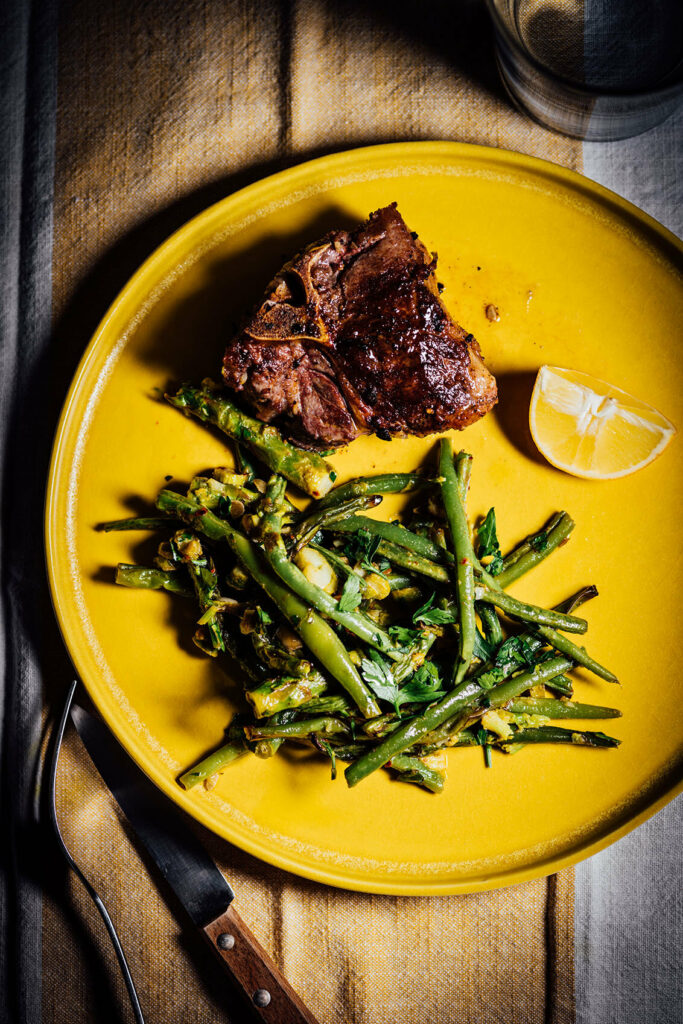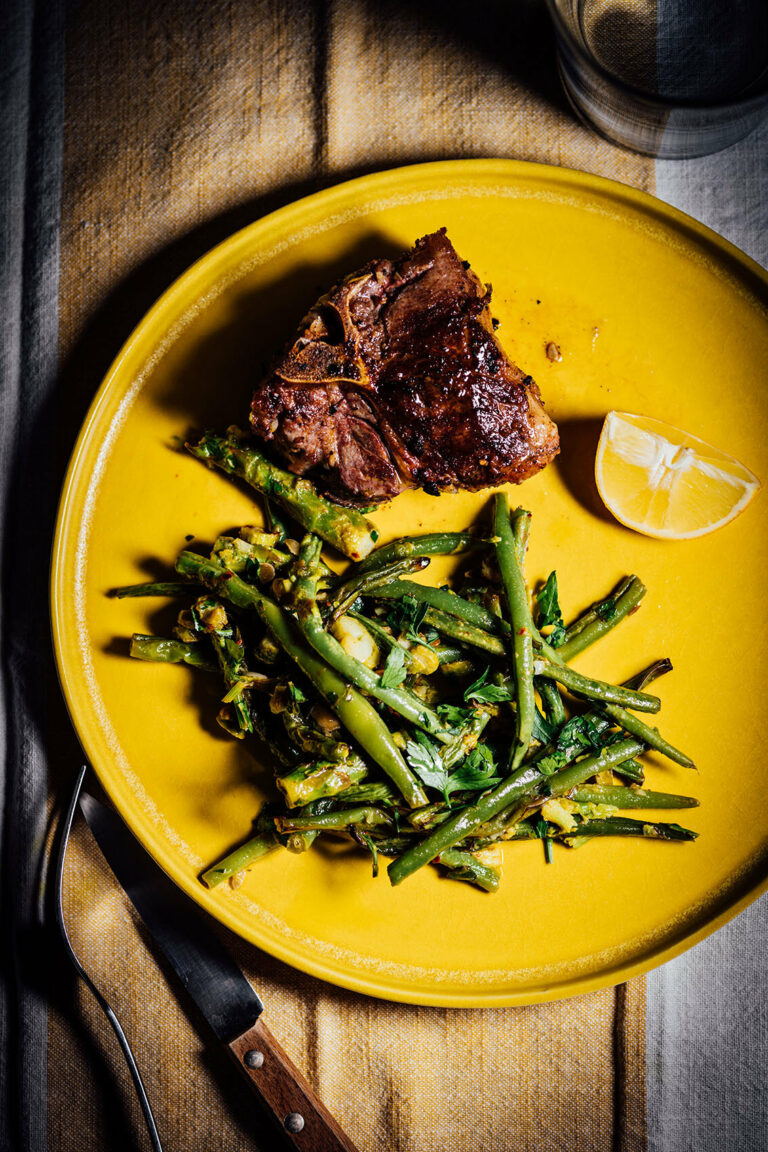 Disclaimer: This post was sponsored by the American Lamb Board. All opinions expressed are solely my own.
American lamb chops are a quick and easy meat cut to season and cook. Typically, I'll season the meat in a marinade for a short time, then cook it over heat till they develop a nice crust to the desired degree of doneness, and then serve it with a salad or some vegetable. I'm taking advantage of spring produce – asparagus and green beans. Use young asparagus and green beans, so the final texture is tender and not chewy. The older these vegetables, the more fibrous and chewy their texture. Adding pumpkin seeds adds a pop of crunchiness to the vegetables, while the lemon juice helps pop the flavors out, and the fish sauce adds a note of savoriness.
I like to use a generous amount of garlic when I cook lamb; I've toned it down a little here, but bump it up for those of you who are garlic lovers! You can also make it hotter by adding minced green chilli like a Serrano, Thai pepper, or cayenne. If you own an outdoor grill or grill pan with grates, you can get those nice char marks, but a regular skillet will work wonderfully too. If you have fresh aromatic herbs like mint, add them to the vegetables for a beautiful hint of coolness.
Currently, over 80,000 family farmers and ranchers across our country raise lamb for our food. If possible, try to support your local farmer's markets and stores by purchasing lamb from them; this helps the families and farms grow our food and strengthens the community.
Print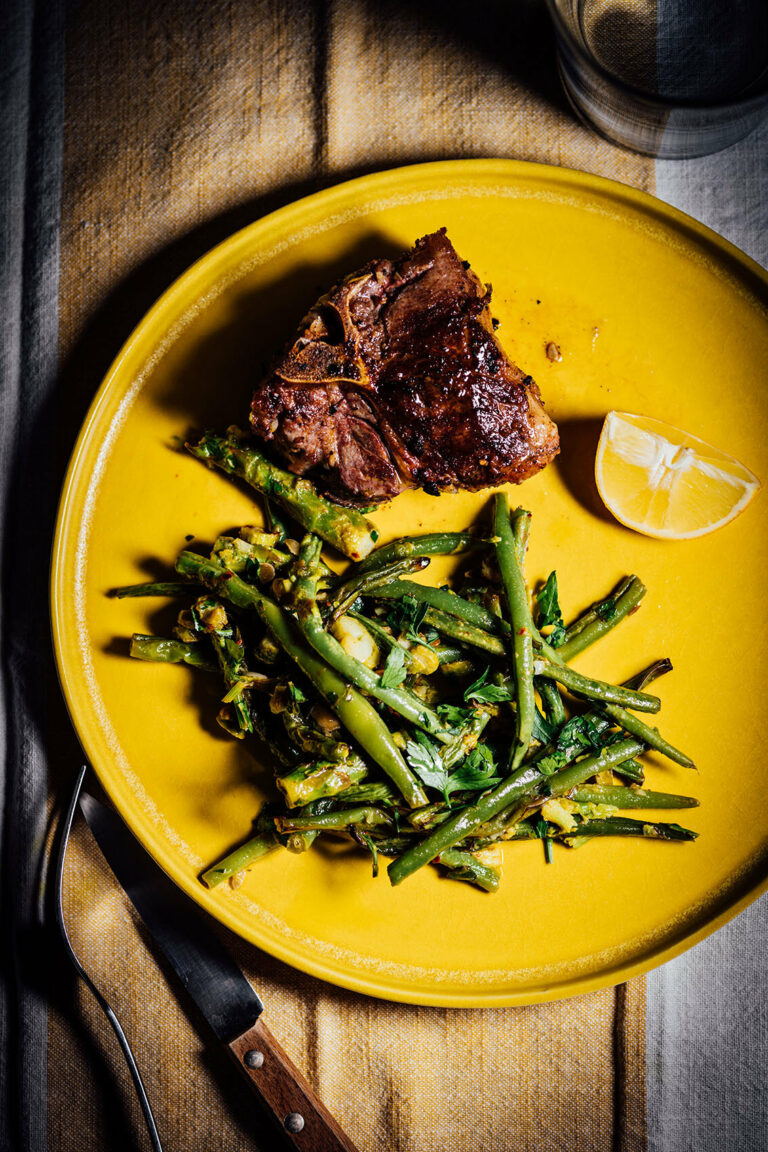 grilled lamb chops with asparagus and green beans
This lamb dish needs no accompaniments; serve it for a light lunch or dinner. Sometimes, I chop up a few tablespoons of fresh mint and add it to the cooked vegetables before serving.
Check out the  American Lamb Board to learn more about lamb and available options. In addition, due to the COVID-19 pandemic crisis, the American Lamb Board is running a campaign to help support America's farmers and ranchers; please take a moment to check out fanoflamb's #TheLambChallenge campaign to help raise money for Feeding America and the opportunity to win some great prizes!
For the lamb chops
4 American lamb loin chops (about 1 to 1 1/2 lbs /455 g to 680 g total weight)
3 Tbsp extra-virgin olive oil plus a little extra to brush the pan
2 garlic cloves, peeled and minced
2 tsp ground black pepper
1 tsp fine sea salt (if you have a smoked infused salt on hand, use that for a kick of smoky aroma)
For the asparagus and grilled beans
 1 lb/455 g asparagus spears, bottom tough end trimmed and discarded
1 lb/455 g green beans, ends trimmed and discarded
3 Tbsp raw pumpkin seeds
2 garlic cloves, peeled and minced
2 Tbsp extra-virgin olive oil
fine sea salt
2 Tbsp lemon or lime juice
2 Tbsp wet mustard
2 tsp honey
1 tsp fish sauce
extra lemon wedges to serve
Instructions
First, prepare the marinade for lamb chops. Pat the lamb chops dry and place them in a resealable food-safe bag. Mix the olive oil, garlic cloves, black pepper, and salt in a small bowl. Pour this over the lamb chops in the bag. Seal the bag and shake it to coat well. Let this sit in the refrigerator for at least 1 hour, preferably 2 hours. When ready to cook, leave the bag on the kitchen counter to warm up to room temperature for about 30 minutes. Heat a grill pan or cast-iron skillet over medium-high heat and brush the pan with oil. Cook the lamb chops till they are well browned on each side, and their internal temperature reaches 135F /57C. Remove the chops from the pan, place them in a serving dish, and cover them with foil.
About 30 minutes before you're ready to cook, prepare the vegetables. Preheat the oven to 450F/232C. Line a baking sheet with aluminum foil or use a large baking dish.
Cut the asparagus into roughly 1 in/2.5 cm pieces and place them in a large bowl with the green beans, pumpkin seeds, and garlic. Drizzle the olive oil all over the vegetables, season with salt, and toss to coat well. Spread the vegetables on the prepared baking sheet and roast the vegetables in the preheated oven for 8 to 10 minutes. The asparagus stems and beans should be tender, pull one out after 8 minutes of cooking to test and determine how tender they taste. The vegetables should be slightly browned. If you want to give them a deeper char, move the baking sheet to the upper 1/3rd portion of the oven, turn the broil function on, and set it to high; cook for 2 to 3 minutes until the vegetables char. Once cooked, remove the baking sheet from the oven.
Whisk the lemon juice, mustard, honey, and fish sauce in a small bowl. Taste and adjust the taste with salt if needed. Pour the liquid over the roasted vegetables and toss to coat well.
Serve warm alongside the grilled lamb loin chops with extra wedges of lemons.