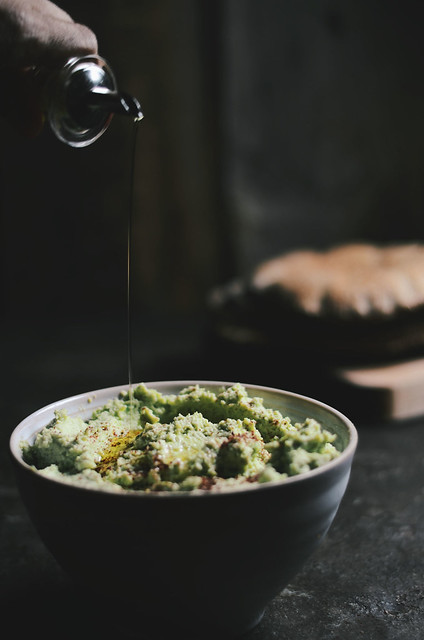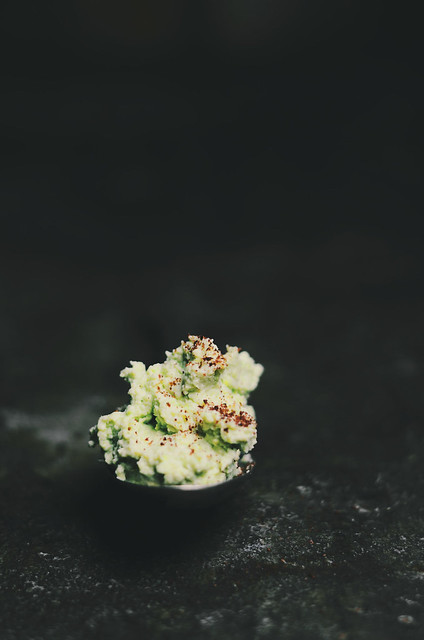 Simplicity comes in all sorts of shapes, sizes and colors. Simple things when brought together can sometimes produce the most spectacular of results which is why I adore hummus. A simple combination of chickpeas, sesame and a few other ingredients when mixed make for a delicious bowl of humus bursting with complex flavors that I find extremely satisfying. I think if faced with the option, I could probably eat hummus everyday and lots of it!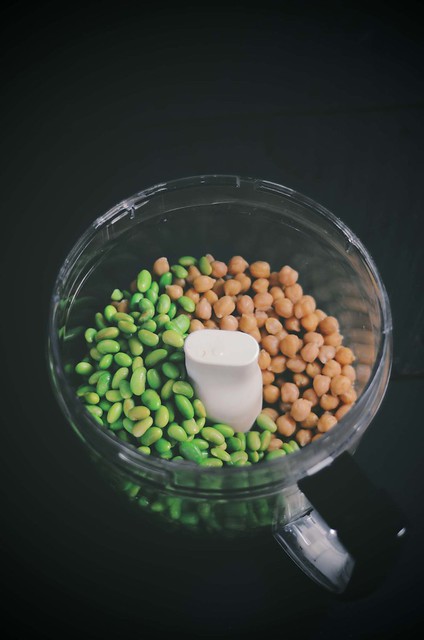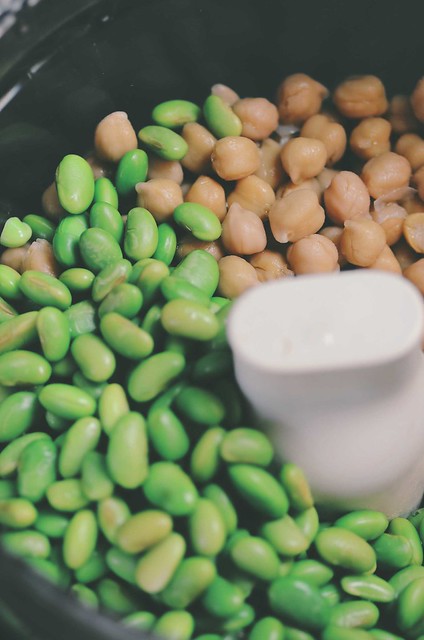 By far, this is one of my favorite ways to make hummus at home. Edamame is a buttery bean that lends its smooth texture to create many a tasty thing, so adding it to hummus makes it really good! I also love to add a few cloves of oven-roasted garlic to the bean duo of edamame and chickpeas with some freshly squeezed lime juice. The oven-roasted garlic flavor gives an aromatic and mildly sweet flavor to the hummus. If I feel a little bit risqué, I'll sometimes throw in a chili pepper for a little heat but if you don't want this hot, feel free to skip the chili.
My favorite part is diving a piece of warm pita bread straight into the bowl of hummus after it's been generously drizzled with olive oil and a sprinkling of sumac.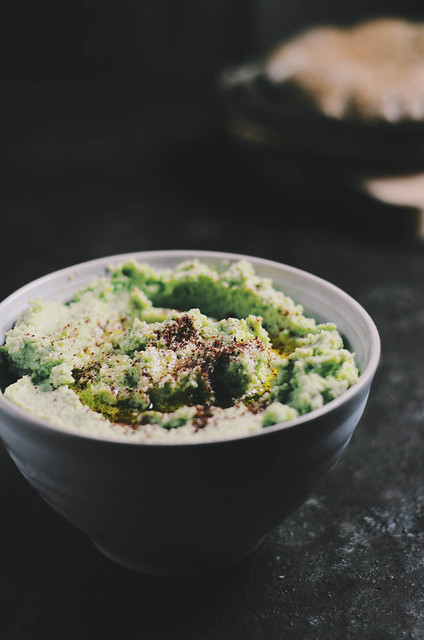 edamame chickpea hummus
yields: approximately 3 – 3 1/2 generous cups 
ingredients
2 garlic cloves, oven-roasted*(instructions below on how to roast the garlic, you can use one garlic clove if you prefer)
2 cups boiled edamame
7 1/2 ounces boiled/canned chickpeas 
2 tablespoons tahini
1 thai green chili pepper (optional)
1/4 cup lime juice, freshly squeezed
1  1/2 teaspoons kosher sea salt
2 tablespoons extra virgin olive oil
1/4 cup water (you might need more)
1/2 teaspoon sumac
extra olive oil for drizzling
1. Place the garlic, edamame, chickpeas, tahini, chili, lime juice, salt, olive oil and water in a food processor. Pulse until combined.  You might need to add more water to adjust the consistency of the hummus.
2. Transfer to a serving bowl, sprinkle the sumac over the hummus and drizzle with olive oil just before serving. Serve with fresh/toasted pita bread, pita chips or crackers.
* oven-roasted garlic
yields: 1 garlic head
ingredients 
1 garlic head
1 teaspoon olive oil
1. Preheat the oven to 400F. 
2. Peel most of the loose paper off the garlic head. Place the garlic head in a small baking dish and brush it with the olive oil. Cover the dish with a piece of aluminum foil and bake in the oven for about 40-45 minutes. Remove and allow to sit  covered for about 10 minutes. Remove the aluminum cover and and peel the paper off the garlic. Use as needed.