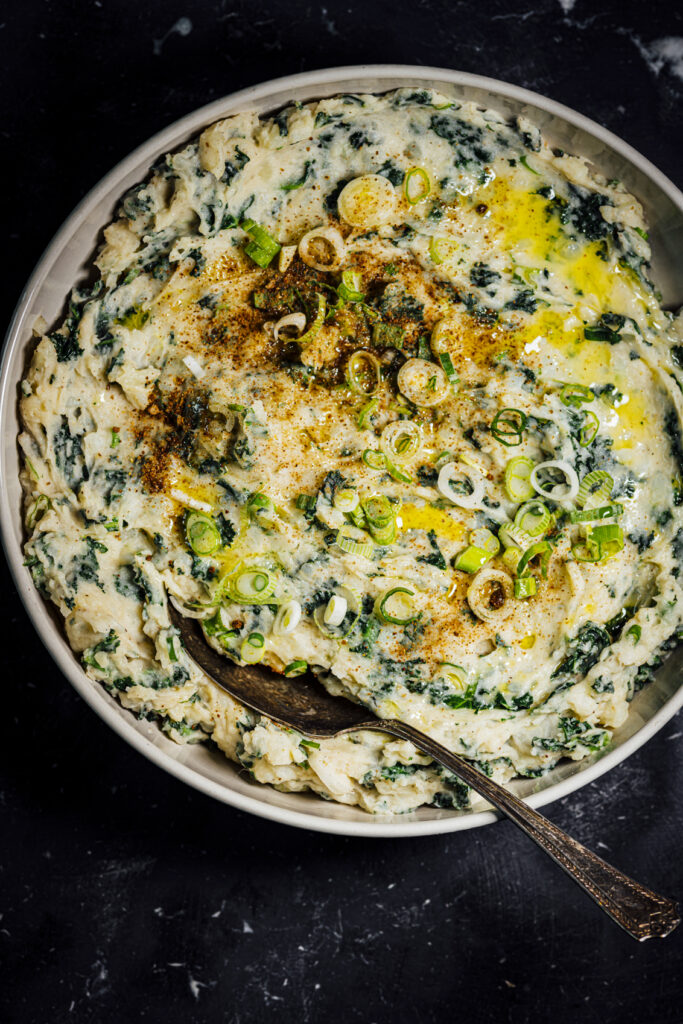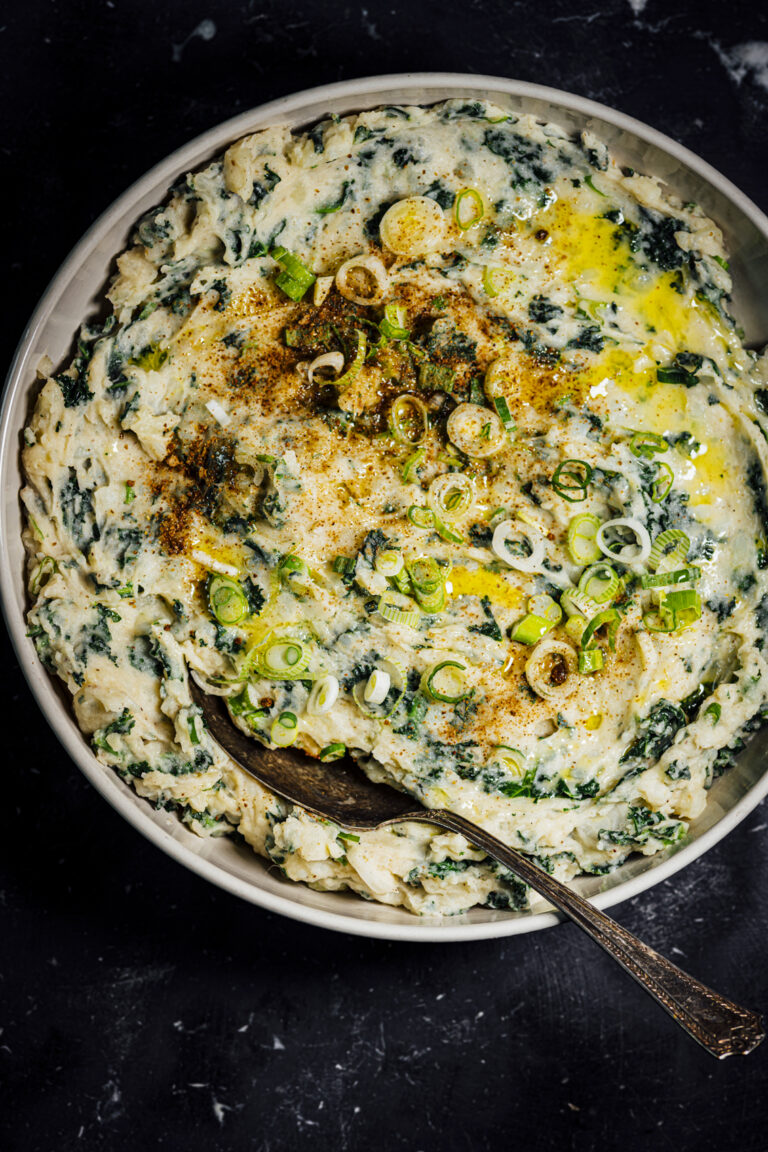 Print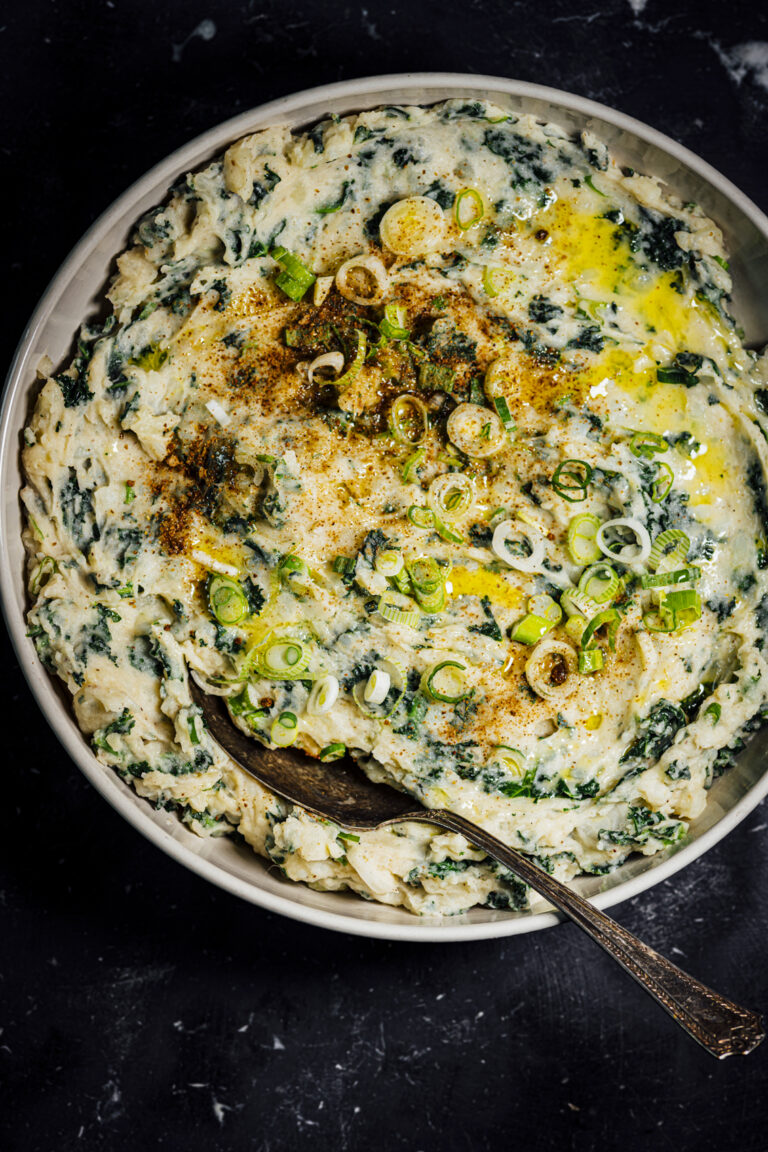 Colcannon with Chaat Masala
Colcannon is one of my favorite ways to eat mashed potatoes. It's soft and creamy, a reason why mashed potatoes are one of the most comforting and alluring food textures I can think of. Typically chopped cabbage or kale is blanched in boiling water and then incorporated into the mashed potatoes, but I prefer to sauté them. I tweaked this Irish classic, used melted ghee instead of butter, and sprinkled a generous amount of chaat masala. Colcannon goes with almost every meal, and I love it with sausages, ham, fish, and beans. If you're inclined, throw in a few tablespoons of chopped, crisped pieces of bacon or pancetta.
2 lb/910 g russet or starchy potatoes
fine sea salt
10 Tbsp/150 ml melted ghee or unsalted butter
10 oz/285 g kale, midrib removed and discarded, leaves chopped fine
1 cup/240 ml whole milk
1 1/2 Tbsp chaat masala, homemade or store-bought
3 scallions, both white and green parts, thinly sliced
Instructions
Rinse and scrub the potatoes to remove any dirt under running water. Place the potatoes in a large pot filled with enough water to cover them by 1 in/2.5 cm. Add 1 tsp fine sea salt. Bring the water to a boil over medium-high heat, then reduce to a simmer. Cover with a lid and cook until the potatoes are tender and easily pricked with a knife or fork. The cooking time will vary depending on the thickness of the potatoes, 45 mins to an hour. Drain the potatoes and place them on a plate to cool. When the potatoes are cool enough to handle, peel and place the potatoes in a large mixing bowl.
While the potatoes cook, prepare the kale. Heat 2 Tbsp of ghee over medium heat in a medium saucepan. Add the kale and a pinch of salt, and sauté until the leaves turn bright dark green and wilt for 5 to 6 minutes. Remove from the heat.
 Add half of the milk to the potatoes and mash with a masher or fork (for a fine texture, use a ricer).
Add 1 Tbsp of the chaat masala and the remaining milk and mash until combined. Fold in 7 Tbsp of the melted ghee.
Fold in the kale and 3/4 of the scallions. Taste and season with salt.
Transfer to a serving bowl. Top with the remaining scallions and chaat masala. Drizzle the remaining 1 Tbsp of melted ghee. Serve hot or warm. Leftovers will stay good for up to 4 days in an airtight container in the refrigerator.
Notes
Shredded cabbage, chard, and minced leeks can be used in place of kale.
For a smooth texture, use a ricer to prepare the potatoes. Another option is to pass the boiled potatoes through a fine mesh sieve and then mash them.