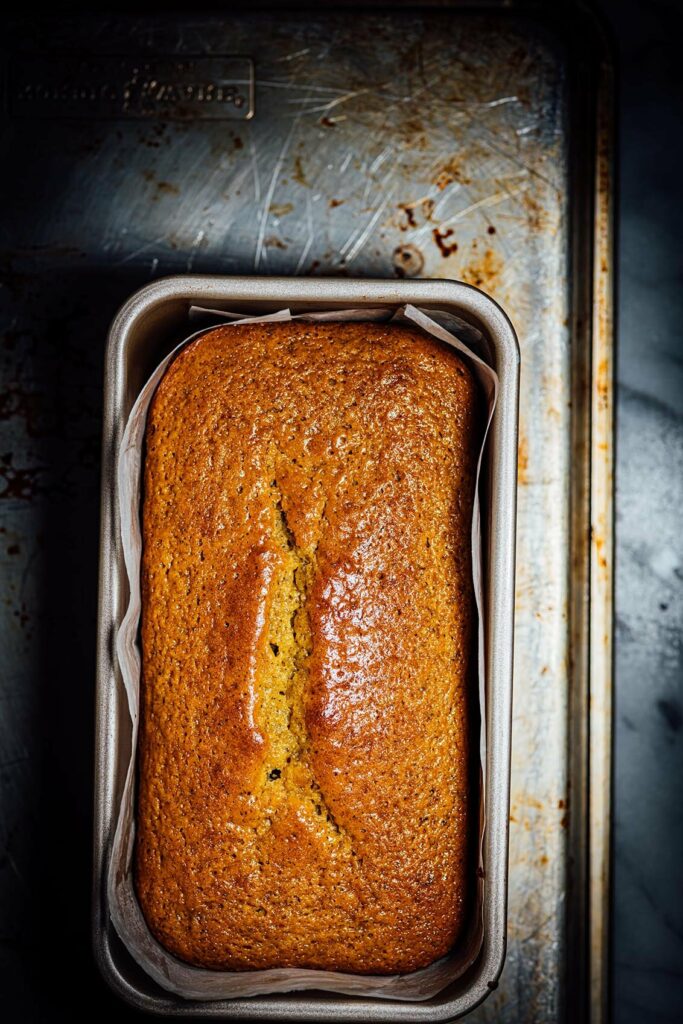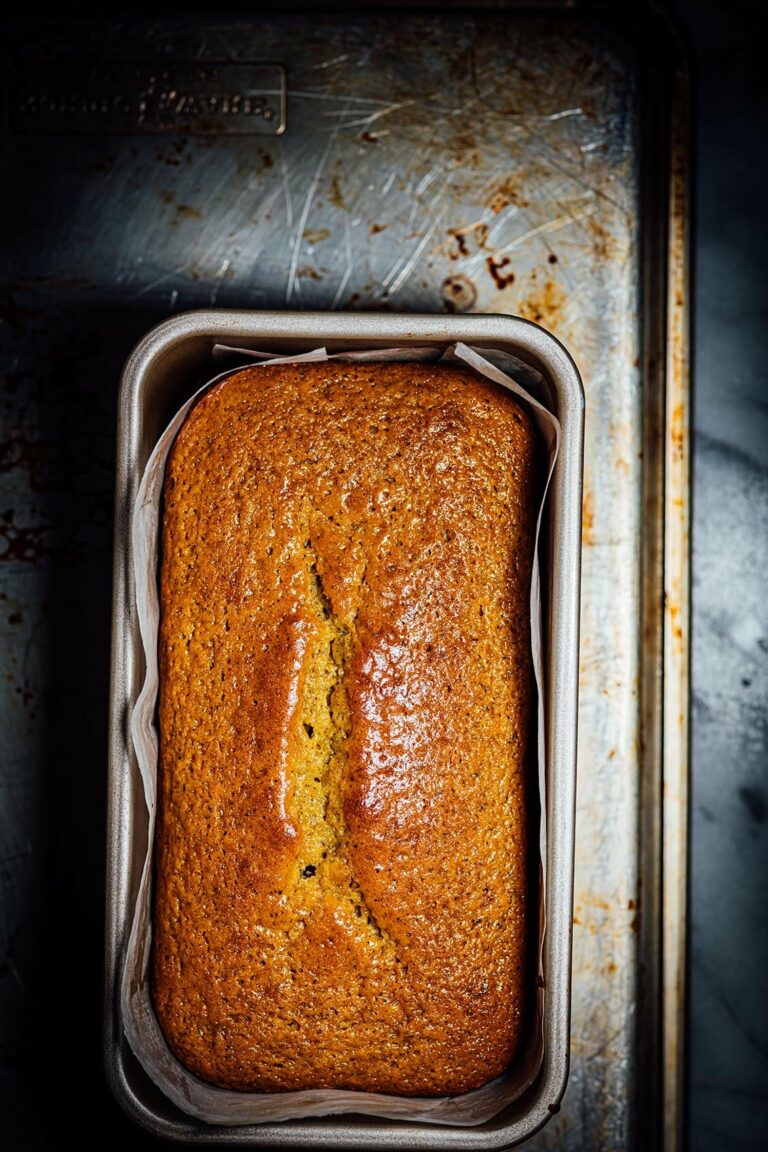 I read Samin Nosrat's recipe for the famous Russian Honey Cake of the 20th Century Cafe in San Francisco a few months ago. If there's one thing I regret never eating all the years we lived in the SF Bay Area, it's this cake. When I read Samin's recipe, I noticed how she burned the honey; that was one of the ideas I wanted to incorporate into this cake. The second excuse to make this pound cake came from my pantry. I have a lot of random boxes of tea with 1 to 2 Tbsp of leftover tea leaves or the dust that sits inside after all the leaves are used; this is my way of using that up. Earl Grey tea, which contains bergamot, is perfect in this burnt honey combination, but other fragrant teas will work just as great.
If you bake a lot of cakes, you'll notice that I change things around in the formula of this recipe, especially when the butter and salt go into the batter preparation. I did this to get a better texture and prevent certain things from happening (see my Kitchen Notes below).
This recipe is the perfect example of the caramelization reaction in sugars. When heated, sugars undergo various changes and produce a new set of aroma, taste, and pigment molecules. I use baking soda to manipulate and hasten the caramelization reaction in the honey. Later, when baking the cake, reduce the temperature to reduce the browning of the sugar. Some of the cake's browning also comes from another chemical reaction called the Maillard reaction, which occurs between amino acids and sugars; this reaction produces a completely different set of flavor and pigment molecules that also appear brown in color.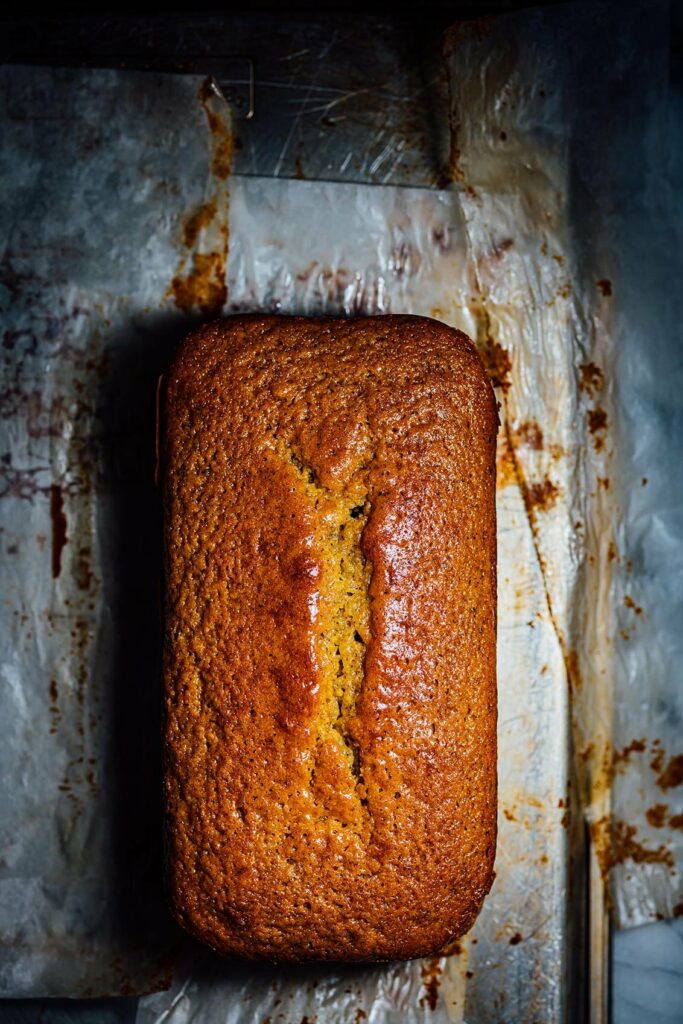 Print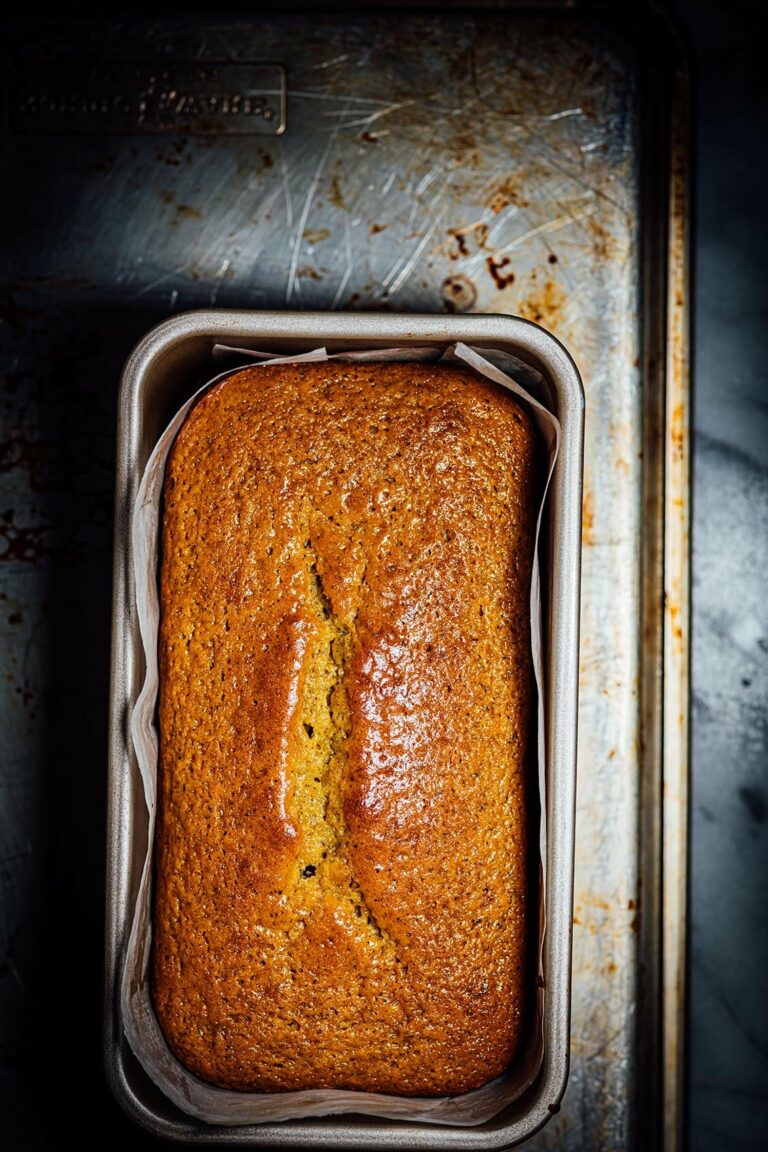 burnt honey and earl grey tea pound cake
Yield:

One 9 in/23 cm cake loaf
2 1/2 oz/70 g unsalted butter, cut into cubes and softened to room temperature, plus a little extra butter to grease the baking pan

 1 1/2 cups/170 g cake flour
1 1/4 tsp baking powder

3 to 4 Tbsp Earl Grey tea leaves (or use a fragrant dark black tea)

3/4 cup/180 ml runny honey

1/8 tsp baking soda

3 large eggs

1/2 cup/120 ml full-fat or 5% plain unsweetened Greek yogurt

1/2 tsp vanilla extract (optional)

1/4 tsp fine sea salt
Instructions
Preheat the oven to 325F/163C. Grease and line a 9 in/23 cm loaf pan with a little butter with parchment paper.
Place the cake flour and baking powder in a medium bowl. Grind the tea leaves down to a fine powder using a mortar and pestle, and add it to the flour in the bowl. Dry whisk and keep aside.
Pour 1/2 cup/120 ml honey into a small saucepan and heat over medium-high heat till the honey begins to bubble at about 230F/110C, as read on a candy thermometer or an instant-read digital thermometer. Reduce the heat to low and add the baking soda and stir with a stainless-steel or wooden spoon (use one with a long handle to avoid getting burned); the mixture will foam, continue to cook till the color of the honey changes to a darker shade of amber, by about 270F/32C watch this carefully because it can happen at a slightly lower temperature. Remove from heat and pour the honey into a large heat-proof or stainless-steel bowl.
Stir in the remaining 1/4 cup/60 ml honey. Whisk in the cubed butter. When the mixture cools to 150F/66C, whisk in the eggs one at a time until completely combined. Whisk in the yogurt, vanilla, and salt until completely combined. Add the flour mixture to the center of the honey mixture and whisk until there are no more visible flecks of flour or lumps. Pour the batter into the prepared loaf pan, place on a baking sheet, and bake in the oven for 45 minutes. Do not open the door at any point during this time. After 45 minutes, open the oven, rotate the pan, and cook for another 10 to 15 minutes, till the top is golden brown and firm to touch; a skewer or knife, when inserted through the center of the cake, should come out clean. Remove the loaf pan from the oven and let the cake cool in the pan for 15 minutes. Run a knife around the edges of the pan to loosen the cake, and then release and remove the cake. Peel off and discard the parchment paper. Transfer the cake to a wire rack to cool completely before serving.
This cake will stay good for up to 4 days if wrapped and stored in the refrigerator. This cake can also be wrapped in foil or plastic wrap and then stored in an airtight container for up to 1 month in the freezer; remember to thaw it overnight in the refrigerator, a day before you want to serve it.
Notes
Honey is the sweetener in this cake. Honey is acidic and also rich in fructose.
Runny honey – is honey that is clear and drips, do not use creamed honey or honey with bits of the honeycomb (especially honeycomb, as it will alter the chemistry of the cake).
"Burning" the honey helps caramelize it. Fructose will start to caramelize at about 230F/110C.
Effect of alkali/high pH on Caramelization: I add a tiny amount of baking soda to the honey once it is hot. Baking soda provides an alkaline pH that promotes the caramelization of fructose and the other sugars in honey. On temperatures above 176F/80C, the baking soda changes into sodium carbonate, which is also alkaline and promotes the caramelization reaction (not to be confused with the Maillard reaction). You will see some foaming; this change to sodium carbonate releases carbon dioxide gas. As a consequence of caramelization, the honey takes on a bunch of new flavors and even colors; you'll immediately pick up some new scents but watch how the honey goes from golden to a dark amber as it cooks. The three caramel pigments produced – caramelan, caramelin, and caramelen, all contribute to this color.
I add the butter to the honey as soon as it comes off the stove to prevent it from crystallizing or hardening.
Flour: I use cake flour for a very tender crumb. Use all-purpose flour for a dense texture (use the same weight). You can also use the cornstarch: flour conversion for cake flour – use this formula : [ 1 cup all-purpose flour – 2 Tbsp flour] + 2 Tbsp cornstarch (cornflour)]. (Note: that "-" is a minus sign) .The cornstarch substitution changes the flour's ratio of protein and starch by reducing the amount of total protein present (by comparison, cake flour is a lower protein flour than all-purpose flour).
Tea: Bergamot's aroma pairs beautifully with the toffee flavor of burnt honey, hence my recommendation for the Earl Grey (I used Fortnum and Mason) but use what you have at home or can find. Citrus or floral aromas work best here. If you can't find a tea like Earl Grey, add 1 tsp of fresh lemon zest to the cake batter and ground black tea (like a Darjeeling). I'm giving a wider tea amount in the recipe, but you can use less – 1 to 2 Tbsp if your tea is stronger. The amount of aroma tends to reduce with age and how long since the tea was first opened. Aroma strength can also vary by brand. If you decide to use teabags: 1 teabag is about 1 Tbsp of tea leaves. Open a bag and extract the tea leaves to use.
Yogurt: I've tried this with full-fat and 5% fat yogurt; the fat-free stuff doesn't leave a good mouthfeel. It feels a bit drier.
Oven Temperature: Honey contains fructose which can burn quite easily, and the cake can darken quickly. Hence, the baking temperature is slightly lower than what I normally use for a sucrose/table sugar-sweetened cake.