View this post on Instagram
Finally, this week, some exciting news: I am so happy to see the Dutch edition of The Flavor Equation come to life – De Smaak Vergelijking , more details on how to get a copy are in the link.
Print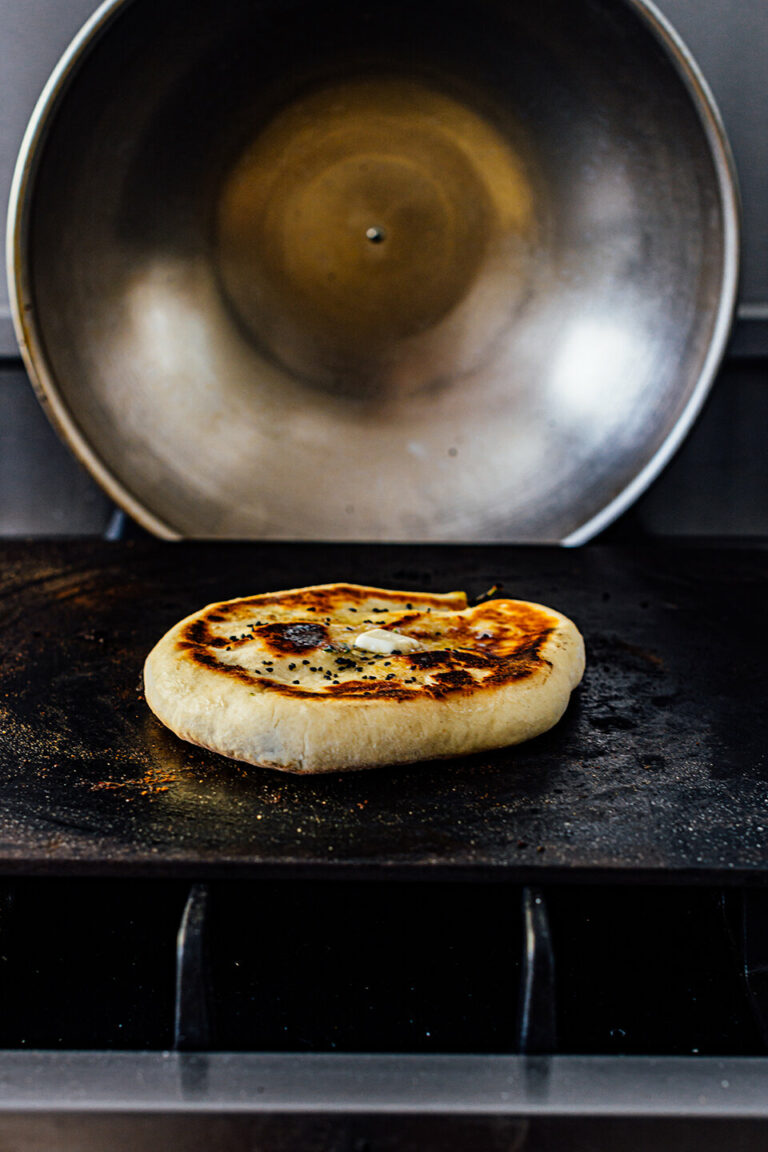 Spinach Miso Mozzarella Naan
There is something supremely gratifying about ripping hot stuffed breads and watching the hot melted cheese hidden inside drip out. I first tried a version of these stuffed cheese naans in India that blew my mind away. My version of this naan is filled with tender baby spinach leaves flavored with miso and mozzarella for an extra kick of umami.
2 Tbsp extra-virgin olive oil
1 garlic clove, minced
1 Tbsp yellow miso
1 tsp red pepper flakes such as Aleppo, Urfa, or Maras
10 oz baby spinach
2/3 cup shredded mozzarella
½ cup whole milk, warmed to 105F to 115F/41 C to 46C
1 large egg
2 Tbsp plain full-fat unsweetened Greek yogurt
1 Tbsp melted unsalted butter or ghee
1 Tbsp sugar
1 tsp fine sea salt
1 Tbsp active dry yeast
2 cups all-purpose flour
4 tsp of unsalted butter
4 tsp of nigella.
Instructions
Start by preparing the filling.
Heat the olive oil over medium heat in a medium skillet or saucepan. To the hot oil, add the garlic clove, yellow miso, and red pepper flakes and sauté until fragrant, 30 to 45 seconds. Add and sauté the spinach over low heat until most of the liquid evaporates, and the spinach shrinks. Taste and season with salt if needed. Transfer the spinach to a bowl and cool completely to room temperature. Once cooled, fold the mozzarella Store in an airtight container in the refrigerator until ready to use.
Prepare the dough for the naan. In a small mixing bowl, whisk together, the whole milk, egg, yogurt, melted unsalted butter, sugar, sea salt, and yeast. Let it sit for 5 minutes at room temperature until frothy. Add the flour to the bowl of a stand mixer. Fix the dough blade attachment. Pour the milk mixture in and mix over low speed until combined to form a sticky dough. Once combined, knead for an additional 4 to 6 minutes, over medium-low speed. The dough might be slightly sticky. Shape the dough into a ball and place it in a lightly greased bowl, cover with a lid and let double in size, anywhere between 1 to 4 hours (rising time varies by ambient room temperature and how the strength of the yeast. At 80F/27C it takes about 1 hour).
Transfer the risen dough to a lightly floured surface and divide the dough into 4 equal parts by weight. Shape each piece of dough into a ball and pinch it at the seams. Cover the dough with a clean, lint-free kitchen towel and work with the first piece of dough.
Divide the filling into 4 equal parts by weight and shape each into a ball.
Lay one ball of dough out onto a lightly floured surface and roll it out into 5 in/12cm wide circle. Place one ball of the filling in the center. Dip the tip of your finger in a bit of water and dampen the outer edge of the dough (about ½ in/2.5 cm), grab the sides of the circle, and press to seal. This will remind you of stuffing a wonton. Flatten the dough by hand to form a rough circle and then roll it out gently to form a 6 in/15cm circle, using a little flour as needed to prevent sticking. You can stretch the naan out with your fingers, just like a circle of pizza dough, by pressing gently at thicker edges. Place the naan on a lightly floured surface and cover it with a lint-free kitchen towel. Prepare the remaining naans.
While the naans are stuffed, heat the baking steel over medium-high heat on the gas stove till it reaches 500F/260C. Keep a wok lid or a large heat-proof dome-shaped lid ready.
Once the baking steel is hot, gently dust or brush off any excess flour off the naan, add the naan, and cover with the lid. Reduce the heat to medium-high and cook the naan covered for 3 to 4 minutes, until it rises, and the base turns a dark brown and blistered. Top with 1 tsp of butter and sprinkle 1 tsp of nigella.
Flip the naan and cook on the second side for 2 1/2 to 3 minutes, until lightly blistered and golden brown. Transfer to a serving plate, and cover with a clean, lint-free kitchen towel. Wipe the baking steel with a dry clean paper towel to remove residual flour and prepare the remaining naans. Serve warm and top with additional butter if desired.
Notes
The amount of yeast – 1 Tbsp is not a typo (I often get this question). To create those signature big bubbles of air in naan quickly, a higher amount of yeast gets the job done in a shorter period of time.
The rising time – this varies anywhere between 1 to 4 hours. In winter and in cold kitchens, it could take 4 hours while during summer, it can take about an hour.
It is absolutely essential that the spinach filling has almost all the water driven out of it and it is completely cooled before it is stuffed into the dough. If it is too wet, the naan might not cook evenly inside and also end up soggy, if too hot, not only will the cheese melt but it will kill some of the bacteria and yeast.
Once the dough is stuffed, avoid stretching it too thin, I find it's better to stay on the thicker side than on the thinner side of things with stuffed naans. You can shape them in circles or also pull them in the "teardrop" shape with one side
This method is a little different than the one I used in Season, but the principle is the same. I'm using a Baking Steel and a wok lid to recreate the environment of a tandoor.
My favorite condiment to serve these naans with is my friend Chitra's tomato achaar and/or a bowl of plain, unsweetened, and lightly salted Greek yogurt.