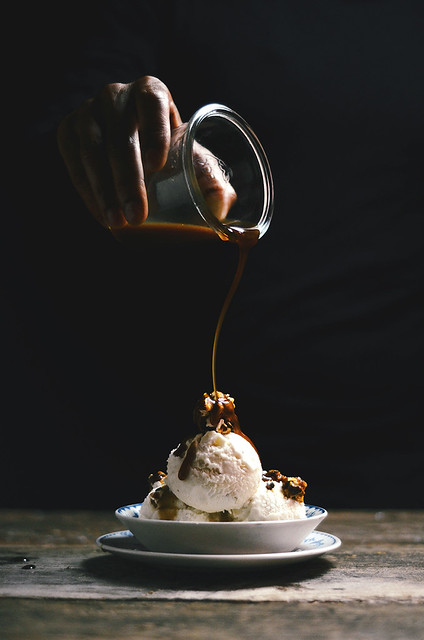 Friends, there are just a few days left to vote for my blog, in the Saveur Food Blog Awards in the Best Photography category. If you haven't had a chance to do so, I'd appreciate if you could take a moment to vote for my blog and a bunch of other lovely blogs nominated this year. I promise this is the last time I will bug you about it!
It's funny how I find myself associating certain foods with certain things or moods. Take popcorn for example, movies are the first thing that come to mind. Be it at the theater or at home, popcorn is what M and will get, mind you we get the humongous bucket. I tend to gobble it down pretty fast and M's always complaining that he never gets any. Mind you, he's the one holding onto the bucket. At the theater, it's always those first few minutes during trailers (I love trailers, I can never get enough of them at the movies) that two of us tend to eat as much as we can, after that moment has passed and the movie begins, we stop eating. Besides popcorn or some chocolate, I don't order anything when we go out to the movies because at most theaters the food doesn't seem that appealing (though there are a few fun places with good snacks). When at home, however for movie night, I'll try to fancy it up with nachos and lots of melted cheese, popcorn with a few different flavors and ice cream! Yes, considering, how much I love ice cream, if I plan ahead well in advance, I'll make us a batch of some type of ice cream.
At this time of the year, it's movie time! All the new trailers are released, to a movie buff, it's what makes summer exciting. There's the new Star Wars trailer, the new Avenger's movie, Mr Holmes, and so many others (If you haven't already guessed I'm a huge fan of scifi, fantasy, thrillers, horror and independent foreign films).
But what if I said I've combined two of my favorite movie treats into one! Yup, in the form of a popcorn infused ice cream! This ice cream has the buttery flavor and fragrance of freshly popped corn and added to that, I've gone and garnished it off with Maldon salt flakes and caramel crusted popcorn with a generous drizzle of caramel sauce.
I used the white popcorn kernels from Bob's Red Mill which gave this ice cream a great flavor. You can use store bought homemade caramel sauce and caramel coated popcorn, if you're low on time. This ice cream has that light yet unmistakable flavor of popcorn that I love.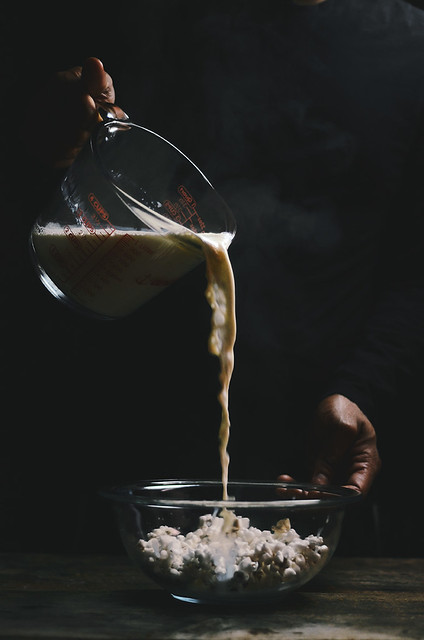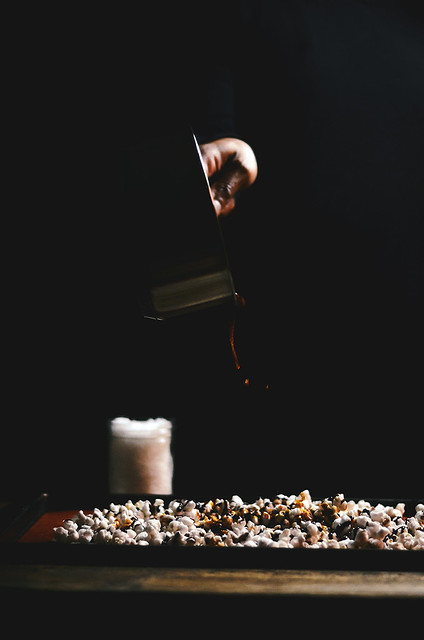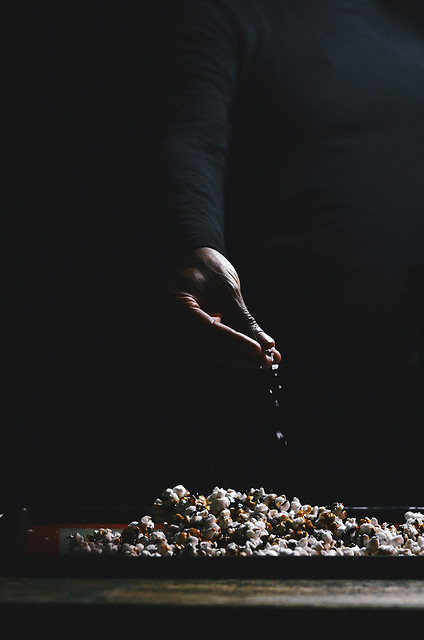 Here are some of my tips that you might find useful when preparing this ice cream;
After steeping the popcorn in the milk, I grind the popcorn down to break it into little bits. The brown kernels aren't that much fun to eat in the ice cream which is why I recommend letting the milk sit and then removing the brown bits by decanting the milk. I don't recommend passing the milk through a sieve as you will lose out the white bits of the popcorn.
Pick out the good popped popcorn for steeping, do not use the few that might be burnt (if you use the stove top method). It will contribute a burnt taste to the ice cream which you do not want.
The steeping is most effective if you had the hot milk to freshly popped popcorn and letting it sit overnight. That gives maximum flavor.
The caramel popcorn and caramel sauce might be a little more than you need per scoop but a little extra never hurts!
Disclaimer: This post is sponsored by Bob's Red Mill. All opinions expressed here are purely my own.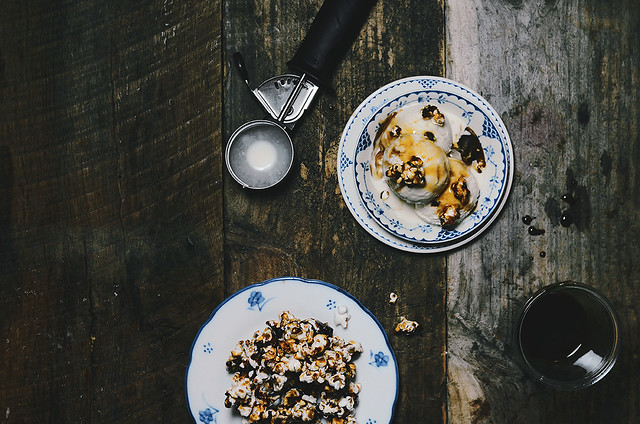 popcorn ice cream with salted caramel popcorn
popcorn ice cream
yields: approximately 4 generous cups
ingredients
3 cups heavy milk + 4 tablespoons
2 tablespoons Bob's Red Mill white popcorn unpopped kernels
1 1/2 cups heavy cream
2 tablespoons honey
3/4 cup (5 ounces )granulated sugar
4 tablespoons cornstarch
1. Place the 3 cups of milk in a medium-sized heavy saucepan and heat on medium-high until the milk begins to just boil. Remove from stove and keep hot until ready to use.
2. In the mean time, place the corn kernels in a large heavy saucepan and cover with a lid. Heat on medium-high until the kernels begin to pop. Shake the saucepan during cooking until almost all the kernels pop and remove from stove. Alternatively, you can also pop the kernels in an electronic popcorn maker or in an oven or using any method you prefer.
3. Immediately transfer the hot popcorn into a medium-sized heat proof bowl, discard any unpopped kernels or burnt popcorn and pour the hot milk over the popcorn. Cover the bowl with a lid or clingfilm and allow to steep overnight in the refrigerator.
4. After the popcorn has steeped, pour the contents of the bowl into a food processor or using a handheld blender pulse it a few times to break the popcorn into fine bits. Allow the mixture to sit for about 2 minutes. The brown kernels will sink to the bottom. Decant the milk into a medium-sized heavy saucepan and discard the brown kernels that have sunk to the bottom but transfer as much of the white bits as you can to the milk. (*See note above in tips section)
5. Add the heavy cream, sugar and honey to the milk. Heat on medium-high with occasional stirring. Whisk the cornstarch with the 4 tablespoons of milk. Once the milk starts to boil, quickly whisk in the cornstarch and whisk vigorously until the mixture begins to thicken. Boil for 1 to 2 minutes or until the ice cream base has acquired a thick custard like consistency. Remove from stove and transfer the ice cream base to a ziplock bag and seal airtight. Chill in an ice water bath completely for about 35-40 minutes. Pour the ice cream base into a prefrozen chilled canister of your ice cream maker and follow the manufacturer's instructions. Transfer the ice cream into a freezer proof airtight container and freeze for at least 6 hours, preferably overnight before serving.
salted caramel popcorn garnish with caramel sauce
yields: about 2 generous cups of unpopped popcorn
ingredients
4 tablespoons Bob's Red Mill popcorn
1 tablespoon vegetable oil
1/2 cup (3 ounces) packed brown sugar
1 tablespoon butter
1 teaspoon maldon sea salt flakes
1. Place the popcorn and oil in a large heavy base saucepan with a lid. Cook on medium-high heat and shake the saucepan occasionally to ensure all the kernels pop. Remove from heat and place the popped kernels on a baking sheet lined with parchment paper or a silicone baking mat.
2. Heat the sugar and butter in a medium and cook with constant stirring until the mixture reaches 250 degrees. Drizzle this hot mixture over the popcorn and followed by the maldon sea salt flakes. Mix with a wooden spoon and allow to cool completely and harden. Crack and use as needed as a garnish for the popcorn ice cream.